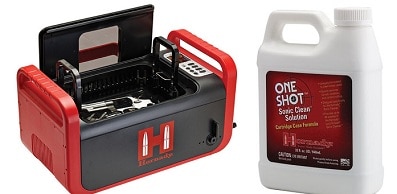 Ultrasonic technology is a modern way to clean up dirty guns, rifles, pistols and firearm parts at home and at gun cleaning shops.
The process actually involves the usage of two basic things. These are:
Ultrasonic gun cleaning device
Ultrasonic gun cleaning solution
While both of these are important for getting enhanced cleaning results, many people ignore using the solvent or solution in their ultrasonic cleaning machine.
Instead, they use plain tap water, which does the job anyhow without providing quality results.
Water in an ultrasonic gun cleaner can be used to clean gun parts and brass cases that are not too dirty.
However, if you want to clean the gun parts that carry lots of carbon residues, contaminants, grease or grime; using a quality sonic gun cleaning solution is highly recommended.
What Is An Ultrasonic Gun Cleaner Solution?
An is basically a mixture of various powerful ingredients, mixed in a way that creates an ideal cleaning reaction when it gets in contact with powerful ultrasonic waves.
These ingredients of ultrasonic gun cleaning solution work by lowering the surface tension of the liquid, thereby enhancing the cavitation effects in the liquid when an ultrasonic wave passes through it.
Gun cleaning liquid concentrate for ultrasonic cleaners are designed to be diluted in water before you can use them for cleaning the gun parts.
Most of these modern-day ultrasonic cleaning solutions are biodegradable and harmless which means it can be safely flushed down drains after use.
This highly efficient solution, when used in an automatic gun cleaning machine, multiplies the cleaning effect to give you unmatched results in very less time.
Types of Ultrasonic Gun Cleaning Solutions
Presently there is a large variety of ultrasonic cleaning solutions available on the market.
Based on their pH levels these formulations are broadly categorized into three major types. These are:
Acidic cleaning solutions (with pH less than 7)
Alkaline or basic cleaning solutions (with a pH greater than 7)
Neutral cleaning solutions (with a pH of 7)
While acidic and alkaline cleaning solutions are meant for tougher cleaning jobs, neutral cleaning solutions can be used for gentle cleaning.
Based on your specific requirements you can choose the cleaner that suits your cleaning job well.
Experts suggest that you should always opt for different cleaning solutions for your brass and gun parts based on the contaminants it holds.
Top 5 Best Ultrasonic Gun Cleaning Solutions
With a wide variety of sonic cleaning solutions for gun parts, it is often confusing to find the best that suits your requirements.
For your help, we have reviewed below 5 best ultrasonic cleaning solutions for guns and brass cases. Check them out and choose the one after considering your needs.
As every popular sonic gun cleaner brand/manufacturer has its own ultrasonic gun cleaner solution available in the market we recommend opting for the same manufacturer's solution.
In case you don't find the same ultrasonic cleaner brand's solution you can go with any of the below-mentioned cleaner solutions.
1- Hornady One Shot Sonic Clean Solution
Designed by the leaders in the market, Hornady One Shot Sonic Clean Solution is a top-rated solution that can be used with Hornady ultrasonic gun cleaners and other cleaners as well.
For shooters and hunters, it is very difficult to remove dirt and carbon from gun parts, once the gun is used.
However, with Hornady ultrasonic cleaner solution at home, you can be an expert in removing dirt, carbon, and grease from your firearms. It removes even powder residue with the utmost efficiency.
Guns cleaned using this best ultrasonic gun cleaning solution look like a new one as all the dirt and residues are removed finely.
Even carbon residues are removed from manually inaccessible parts of the gun quite easily when you use this Hornady Lock n' Load Sonic Cleaner Solution.
Available in 32 ounces of a solution package, Hornady 043355Lock-N-Load Sonic Gun Brass Cleaner Solution, Quart is recommended to use 1 part of the solution to the 40 parts of water for getting effective cleaning results.
You can, however, use it with more concentration if you think that the stains or carbon residues are very stubborn.
One thing that you need to care about when buying the product is it comes in two variations.
One is for cleaning cartridge brass cases (Hornady 043355Lock-N-Load Sonic Gun Brass Cleaner Solution, Quart) and the other for cleaning gun parts (Hornady One Shot Sonic Clean Solution, 1 Quart – Gun Cleaner Solution, Clean All Gun Parts Safely and Quickly – Designed for Use With Hornady Lock-N-Load Sonic Cleaners – Item 043360).
Do check your requirements carefully and choose the one that suits you best.
If you are a passionate shooter who uses your firearms often, you should definitely check Hornady one shot sonic clean solution gun parts formula.
Buy it online for using it with your favorite ultrasonic gun cleaning device.
2- Frankford Arsenal Ultrasonic Brass Cleaning Solution
Frankford Arsenal Ultrasonic Brass Cleaning Solution is an ultrasonic cleaning solution that can be best used for cleaning brass cases and other gun parts at home.
The solution is made in such a way that it works properly with Frankford Arsenal Ultrasonic cleaner and rotary tumbler.
Just mix water and solution in a ratio of 40:1 to remove carbon buildup and tarnishes from the gun parts like a breeze.
Oxidation that happens on brass cases can also be cleared perfectly with the help of this product.
This Frankford Arsenal Ultrasonic Brass Cleaning Solution for Rotary Tumbler, Cleaning and Reloading can be used in multiple cycles of cleaning as there is no need to change the solution each time.
Overall it takes your cleaning and reloading process to most advanced levels and you should have one in your kit for sure.
3- Lyman Turbo Sonic Cleaning Solution
According to Lyman ultrasonic cleaner review, it is good to use the best recommended Lyman Turbo Sonic cleaning solution to get ideal gun-parts' cleaning.
Cleaning the gun is a very difficult job, but this USA made  makes it efficient as well as easy.
This Lyman Turbo Sonic gun parts cleaning solution is, therefore, a perfect gift for shooters who need to clean their guns at home without any hassle.
This best ultrasonic gun cleaning solution is scientifically formulated to rigorously clean all the steel & stainless steel parts along with the oil, dirt, carbon buildup & powder residue.
Powerful enough, you can use this best solution for an ultrasonic cleaner for deep cleaning gun parts like barrels, cylinders, slides, bolts, and other steel items including reloading dies and mold Block.
Specifically designed for gun cleaning and using in Lyman ultrasonic cleaners, you can also use this concentrated solution in other ultrasonic cleaning machines as well.
Use this Lyman ultrasonic cleaner solution and make your gun look as clean as a new one now!
4- iSonic Brass Cleaning Solution
iSonic® cleaning solution is an ultrasonic brass cleaning solution that is a must-have for all gun owners.
iSonic® cleaning solution is safe to use which ensures that surfaces do not get damaged while cleaning.
This iSonic Ultrasonic Brass Cleaning Solution Concentrate 1Qt Bottle cleans the oxidation and carbon residues from brass case surfaces very well.
You can dilute this concentrated solution with tap water in 1:20 to 1:40 ratio based on your needs. One bottle of this ultrasonic brass cleaning solution can be used in creating five gallons to 10 gallons of solution.
5- RCBS Ultrasonic Case Cleaning Solution
Designed and specially formulated to clean the toughest stains on weapons, RCBS ultrasonic cleaner solution is one of the most amazing products on the market.
RCBS Ultrasonic Case Cleaning solution is non-combustible and non-corrosive and hence its the right choice when it comes to cleaning the carbon build up on the brass cases.
You can use this 
for cleaning interior and exterior sides of the cartridge cases and primer pockets.
It removes the fouling from the weapon and firearm parts and also can be used as a rust preventive solution. The good thing is, it's safe and easy to use without any need to follow the manual
To sum up, RCBS Ultrasonic Weapons Cleaning Solution 87059 is a concentrated and low foaming formula that removes the grease quickly with stubborn stains and deposits that are difficult to remove with a simple process.
You should check and buy it now for the advanced cleaning of your gun parts.
---
Simple Green Gun Cleaner: Does It Work?
While above are the best ones we found on the market, names such as Simple Green are also popular when it comes to buying the best ultrasonic cleaning solution for brass cases and other gun parts.
Simple Green represents a new, natural approach to cleaning solutions.
With a minimal amount of artificial chemicals, Simple Green - SMP13406 Extreme Aircraft and Precision Cleaner, 1 Gallon Bottle 13406 relies on natural substances to break through grease, oil, dirt, and grime to create a clean surface.
This is why the product is used in so many different applications including gun parts cleaning.
You can use Simple Green to clean bolt carrier group (BCG) and other machine parts as it removes the grease and gunk while protecting the parts themselves.
Just do your research and pick the one that suits you best.
If you love DIY projects you can also try making a homemade ultrasonic gun cleaning solution that can be a really fun and money saver.
---
Homemade Ultrasonic Gun Cleaning Solution Recipe
Homemade ultrasonic cleaning solution for brass cases is many times recommended and used by hunters who do not want to invest huge money on expensive ultrasonic gun cleaning solvents and solutions.
For making these homemade ultrasonic cleaner solutions for gun parts you can simply mix a detergent or soap powder in hot water.
Few users also recommend using products like vinegar, kerosene, alcohol, and ammonia to prepare the diluted solution to use in sonic cleaner.
However, we do not recommend these homemade mixtures as it can damage aluminum, nickel, brass, copper, stainless-steel or other metal finishes on your firearms and parts.
Whatever products or processes you choose to be cautious enough that the solution is prepared with critical care.
While there is no harm in using these homemade ultrasonic brass cleaning solutions for gentle cleaning, we recommend using one among the best ready-made ultrasonic gun cleaner solutions, so that you can get enhanced cleaning results safely without any damage.
---
Choosing The Best Ultrasonic Cleaning Solution for Gun Parts
Designed for professional as well as hobbyist use, most of the sonic cleaning solutions are safe to use for metals like brass, copper, aluminum, steel, etc.
However, it is recommended to test before you use them for the first time so that you do not damage or corrode the finish of your firearms.
Experts suggest that you should  that is highly reliable and branded in the market.
The good thing about using a reliable solution is it's non-toxic, non-flammable, and non-hazardous in nature.
Additionally, there are few considerations to be made before you choose one. Some of these factors to keep in mind include:
What exactly you need to clean
Type of contaminants dust or grime you need to remove
Configuration and ingredients of the products
Things you need to take care of after using/cleaning
Be ensured that there are few types of ultrasonic cleaner flammable solvents available in the market. Check whether you really need them and if required be careful while using them.
It is best to use an explosion-proof ultrasonic cleaner and solution that is safe and effective to use for enhanced cleaning.
Also, take care that you drain and dispose of the solution as and when required to get the efficient performance.
Follow the user manual to clean your ultrasonic cleaner bath. Refill with a fresh solution, degas it and be prepared to use it next time for your cleaning operations.