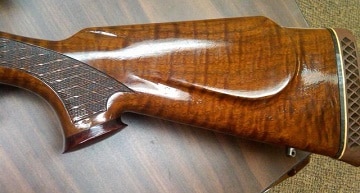 If your gun stock needs to be refinished you might be debating just how you're going to do it.
Maybe you've already decided that you're going to take on the challenge and put in the effort.
But still, you're not completely certain what look you want.
After all, this is a perfect time to change out the look (at least slightly) and get just the right gun stock finish.
5 Best Gun Stock Finishes for Your Rifles
Well, if you've even glanced at the different options out there you probably know that there are hundreds (if not thousands) of different types of stain, wax, and oil that you can use to refinish your gun-stock.
Of course, not all of those are going to do exactly the same thing, and not all of them are going to work for you.
So, what do you do?
Well, we've taken a look at what's out there and we've come up with 5 options that we believe are the best gunstock finishes out there.
Let's check them out right below…
1- Flitz Gun Care Kit
With this kit, you're going to have the basics that you need in order to get your gun looking good.
If you just need a bit of polish and wax to make sure you're at your best, this is the way to go.
It's actually a Carnauba wax, which is one of the best that you're going to find for both durability and looks.
With this best gun stock finish kit, you're actually going to have everything you need for the stock as well as the metal of your gun.
So, if you're looking for an all-around kit that's going to allow you to take care of all of the aspects of your gun, from the woodwork to the metal pieces, you're definitely going to be on the right track.
And you're going to have something that's super affordable and easy even for novice users to apply properly.
That's definitely going to make it the way to go.
2- Birchwood Casey Tru-Oil
Tru-Oil has been around for a long time, and there's a very good reason for that.
It's because it's beautiful and high quality. It's actually made with natural oils, including linseed oil, and you end up with a beautiful finish that doesn't yellow or crack.
If you're still not completely certain, this oil is actually used by more than just gun owners.
It's also used by guitarists, who definitely take their oils seriously.
With Tru-Oil you're also going to get a great seal you can use for the inside of your stock as well as under the butt plate, but that's not all.
You're going to have protection against UV light and you're still going to be able to use your gun with no problems.
Add in the moisture and temperature protection that comes along with it and you're definitely on a good path.
3- Birchwood Casey Walnut Stain
You're going to love this beautiful stain that is actually super simple to apply.
Even those who have never done their own refinishing can get a great look out of this.
It's actually a very deep brown, which will accent your gun stock even better than ever.
And it's going to dry quickly, which means less of the hassle that you might get with some other stains and oils.
You'll never have to worry about it bleeding while you're working or getting cloudy after you've applied it.
This is definitely a high-quality stain and it gives you the look and style that you're looking for a whole lot easier than other options.
You'll be able to finish several different stocks with just a single bottle, or if you only need a few touchups you can actually get this product in a pen that's even easier to use.
4- Birchwood Casey Complete Refinishing Kit
Now, if you're looking to get all-around refinishing for your gun then it's time to start looking at a full refinishing kit.
This type of kit includes the stain you need for your gun stock, but it also contains all of the tools and chemicals that you're going to need to restore the metal components of your gun as well.
Plus, if you're not so sure how it all works or what to do there's a DVD included to walk you through it.
You're going to have everything you need to take care of several different guns and you're going to have a great price to go along with it.
You don't have to break the bank in order to get started taking better care of your guns.
It's definitely at the top of the list when it comes to the best gun stock finishes available.
5- Milsek Gun Cleaner & Oil for Refinish
Manufactured and distributed by renowned Milsek Furniture Polish Inc. this is much similar to their 'The Original', Milsek Furniture Polish & Cleaner with Lemon Oil, with the difference that it is specially made for cleaning guns.
Milsek created its very first cleaner formula in 1914 and has expanded by leaps and bounds since then.
Not only for Gun Stock & Barrel Cleaner but they are also popular for creating unmatchable products for restoring antique collectibles, musical instruments and much more.
The good thing that we like in this gun stock refinishing formula is it contains no harmful wax or silicones as ingredients.
Also, it's not sticky like many other greasy lubricants that can cause miss-fires or severe jams.
You can use it for polishing your rifle stock or for handguns, shotguns, and even barrels.
For polishing the gun stock all you need is a bit of it on a soft gun cleaning cloth and run it softly over the wooden surface.
If required you can buff off using a dry cloth for extra shine.
---
How to Refinish and Restore Your Rifle's Stock?
If you tinker with rifles, you may be tempted to refinish the stock.
This is especially true if you are aiming to get a hand-rubbed finish on the stock to bring out its natural beauty.
For those who are seeking to restore the stocks of old rifles, there is the danger of doing too much or going too far which will ruin its potential value.
If you are looking to augment the sale value of an antique rifle, it is generally best not to do anything which might affect its selling price.
However, if you want to restore or refurbish an older rifle that still has decades of use, there are a few simple techniques that will help you get the most out of your weapon.
You can start with the following steps to restore your old rifle stock.
Step #1 Assess the Damage
The first step is taking a good look at the stock itself. You will need to properly evaluate its condition.
If the stock is heavily damaged, you may want to replace it as restoration efforts may not be enough.
However, if it is still in decent shape, then you should assess what will be needed to return the stock to its original condition.
Step #2 Remove Old Finish
Now that you have done the assessment, the next step is taking off the old finish.
You'll need to do the work in a well-ventilated area or even outside. Remove the stock from the rifle, apply some finish remover, and watch the old finish fade from the stock.
Be sure to wear a mask and rubber gloves when doing the work.
Step #3 Use Scrub Pad
Not all the old finish will dissolve with the finish remover, so you should purchase a scrub pad and get rid of the rest.
It may be tempting to use steel wool, but that tends to rip the grains and leave behind particles that are difficult to remove.
A scrub pad may not be fast, but it does not leave anything behind and preserves the grain.
Step #4 Break Out the Toothbrush
You may find some grease or grime lodged in the stock after the old finish has been removed.
A scrub pad may get some of it, but for the debris that is pressed into the cracks and openings of the wood, you'll need a good toothbrush.
Just remember to scrub in the direction of the checkering grooves so that you do not create any additional scratches.
Step #5 Apply the Heat
After brushing out the grime, you can remove any excess oil in the stock by using a hairdryer.
Set the stock in place and heat the wood by fixing a hair-dryer on one location. When the oil comes to the surface, you can wipe it away with a dry cloth.
Step #6 Sand
You'll want to avoid the checkering, but you can sand the wood gun stock once it is fully dry.
Just remember to cover the checkering with some painter's tape to prevent any accidental sanding of that surface.
Depending on the condition of the stock, you can begin with a light pad that is large enough to be easily handled.
Remember when you are sanding to keep the buttplate in place to prevent any rounding of the edges in that location.
Just keep some blue around for touch-ups in case you remove any from the buttplate when sanding.
Whether metal or plastic, you should keep the buttplate in place. But you might want to add some masking or painter's tape just in case.
Step #7 Swipe, Burnish, and Dust
Once you have completed the sanding to create a smooth surface, you can now swipe the stock using a scrubbing pad made of fine mesh.
This will remove any dust that is present due to the sanding. Using the fine mesh pad will also burnish the wood which makes it easier to finish.
Once you are through with the swiping, be sure to wipe the stock down with a dry cloth which will remove any remaining dust particles.
Step #8 Fill the Grains
One of the best ways to ensure a smooth surface is to apply a liberal amount of French Red.
This will fill in the grains and also create a stain that is walnut-hued. This means that when you finish with the French Red, the stock will have that classic look.
You'll want to rub it in by hand and force it into the grain without doing damage to the stock itself. Just remember to keep the tape over the checkered area.
Step #9 Let Dry & Remove Excess Filler
It's a lot easier to remove the excess filler once you let it dry. When using a scrub pad, work across the grains and not with them to keep the filler in the pores of the wood.
If you notice that some areas still need filler, just add some more and let dry before scrubbing again. It may take two or three times before the stock is ready.
Step #10 Add the Finish
Now you are ready to use a proper finish such as Tru-Oil. This is a type of linseed-oil that can be applied with your fingers.
While it might be tempting to use a lacquer-type varnish which was popular decades ago for that classic appearance.
Tru-Oil is not only better for the wood but will last a long time and make the stock waterproof.
Step #11 Address the Checkering
Now that you have completed work on the main part of the wood, you can take the tape off the checkering and add Tru-Oil to that.
If the checkering is still in decent shape, you will not need to do anything more than lightly brush the Tru-Oil into the checkering.
However, if it needs some work, then you will need to get a checkering tool or hire a gunsmith to do the job for you.
Refinishing and restoring an old stock is not that difficult when using the right tools, equipment, and supplies.
Just remember that you can always replace the stock if it is too damaged. Or, you can have a gunsmith do the work if it is well-worn.
---
How to Make Scratch Repairs on Your Old Gun Stock?
No matter how careful you are about your rifle, it may get scratched overtime to look worn and older.
And unfortunately, the gun stock is no exception.
So, if you are planning to refinish the gun stock make sure to fix the scratches as much as you can, before cleaning.
The steps you need to follow are as below:
Take a piece of paper towel and moisten it with vinegar
Wipe the stock with this moistened paper towel several times
Let it dry completely
Now take a piece of a soft cloth and moisten it with G96 hi-speed linseed oil
In a circular motion gently rub the moistened cloth onto the stock
Within a few minutes, you will see the linseed oil filling the minor scratches in the stock
Take some more linseed oil in the cloth and repeat the rubbing making sure you rub more into the areas that still shows the scratches
Allow the oil to build up for a few minutes and then repeat the process once again
With 2-3 applications you will see the scratches getting disappeared
Finally, let the rifle sit overnight with the oil on stock and then in the morning wipe off excess oil you see
What about synthetic gun stock?
Although the above process may work very well for wood gun stocks, it's not very effective for refinishing synthetic rifle stocks.
So, if you want to refinish the synthetic rifle stock its best to get them painted or camouflage.
Synthetic stocks are getting more popular among modern rifles due to the fact that these are more durable and highly affordable.
But unlike wooden stocks, they are not much attractive.
Customizing them by painting it is one of the best things you can do to improve its appearance.
When painting, remember that you choose the epoxy-based primers and paints as these are best suited for painting the synthetic stocks.
---
FAQs
Does REM oil damage wood stock?
Although not instantly, but using a typical gun oil can ruin the finish of a wooded stock slowly. If you use the Rem Oil on wood repeatedly it may get soaked in and make the wood soft and stained. Usually it can be seen where the stock meets the gun receiver.
Can you refinish a laminate gun stock?
Yes, you can refinish a laminate stock just like your regular stock. However, in place of using a solvent/stripper to remove the old finish, I prefer using a sandpaper. This is due to the reason that a solvent can damage the resin in the laminates which can make the overall look of the stock absurd.
Is boiled linseed oil good for wooden gun stocks?
Purified linseed oil can help you get a gorgeous finish on your stocks. I used the boiled linseed oil once for shining my shotgun that has a finely grained European walnut stock.

To my wonder it removed all the minor scratches and created a durable weatherproof coating when I hand rubbed into the wood. And the overall affect of heat and rubbing gave me a deep polished finish that lasted for years.
Safety Considerations when Refinishing Your Rifle's Stock
Before you start refinishing your gun there are a few things that you need to take a look at.
The first is to take a look at the gun that you're considering refinishing.
Is it a vintage item? A collectible? A military gun?
If it's any of these things or rare or valuable in any way you'll want to talk with a professional dealer before you do anything.
You could be actually ruining the value of the gun by refinishing it.

Once you've determined that you're not actually hurting the value or otherwise damaging the history of the gun we can move on with some of the other features.
At this point, you're going to need to start by actually taking the gun apart and using a quality degreaser to clean the stock.
Make sure that you're using one that comes with your refinishing kit or that the manufacturer recommends so you make sure that the stock is being handled properly.
Once you've done this you can evaluate just how much refinishing you actually need for your gun.
If you need to completely refinish it you'll spend a lot more time on the process, but generally, you'll only need to do small areas.
To actually refinish you want to buff off the old finish with a light sanding and make sure you're using a high-quality oil in your choice of finish.
You'll need at least a single coat and potentially up to three layers before you apply the wax.
Believe me, it's going to give you a whole new style and it's definitely going to make your gun stock look great.