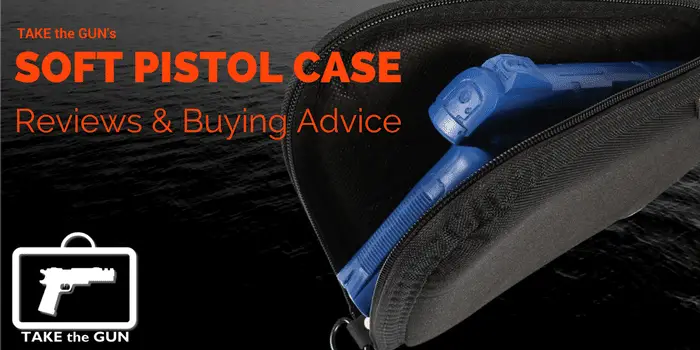 Looking for a "Grab-N-Go" pistol carrying case? What are the best soft pistol cases on the market today? Many of the cases below offer very unique features that will protect your gun and make it very easy for you to move your pistol from one place to another. But which one works best for your gun & your situation? Read our soft pistol case buying tips below and see which case we feel is the best one.
Soft Pistol Case Buying Advice
Over time your gun collection will grow. As it grows you'll realize that you need to spend more time protecting your investment.
While your pistol is fun to shoot, you also need to spend time maintaining it to ensure it remains in good working order. One of the best forms of "maintenance" is preventative. If you prevent damage, scratches, dirt or grim getting on your gun, it will save you time and keep your gun shooting longer.
One way to do this is with a soft pistol case.
Why would you want a soft pistol case?
Many people like that soft pistol cases take up less space and are quick to load and unload which is why they are sometimes preferred over hard cases. Soft cases are great for transporting a gun to and from a shooting range. If you only have a few handguns, they are a great way to store your pistol in a safe or gun vault. It keeps them protected and organized. If you're shopping for your first soft pistol case you'll want to keep reading to get our tips on what to look for and what's really important.
Features & Benefits
As mentioned, a good pistol rug offers protection for your revolver, semi-automatic or sub-compact handgun. The case provides a secure way to transport your gun and store them when not in use. A soft pistol case is added insurance that your handgun will last a long time – and really they aren't that expensive so the investment is worth it.
Types of Soft Pistol Cases
There are a few different types of pistol cases. There are soft cases, hard cases multi-gun cases and cases that are designed to allow you to discreetly carry your weapon without making it obvious that you're carrying a gun (Covert Cases). Of these four types, we're going to focus on soft pistol cases for this review. Within the soft pistol case category, there are even a few different distinctions. There are pistol cases, pistol rugs and pistol socks. We'll talk about each below.
Zippered Pistol Sleeves
Traditional soft pistol cases are very similar to a padded portfolio or purse. They usually have a soft shell and a zippered closure. The soft pistol sleeve allows for easy & quick access to the handgun. Most of them are made of a soft nylon outer and a very plush interior padding – like lambswool, microfiber or synthetic wool. A true pistol sleeve doesn't unzip fully and lay flat (like a pistol rug does).
A soft pistol sleeve offers very little protection for your gun. They keep it from getting scratched but that's about it. It is also a very bad idea to store your pistol or revolver in a soft case for any long amount of time as they tend to attract moisture and most guns will rust in a soft case. If you do plan on long-term storage you need some sort of desiccant to keep moisture down or use it in a safe that has moisture control.
Pistol Rugs
Pistol Rug and Soft Pistol Case are often used interchangeably and the only real difference between them and a pistol sleeve is how it opens.. A pistol rug can have a zippered closure or it will have a flap that you fold over. The primary feature of a soft pistol rug is that it opens a full 180 degrees so it lays flat when open. This way it acts as a "rug" upon which you can place your firearm while at the range or when cleaning your weapon.
Pistol rugs are primarily used for storage, short transportation or when at the range. Because of this they are very soft and are sometimes treated with silicone or oil for the long-term protection of your pistol. The Allen & Bore Stores cases below are great examples of pistol rugs.
Pistol Socks
A pistol sock is usually made of knit or cotton materials. They are designed to quickly cover your weapon from dust debris or other forces. Pistol socks are good for long-term storage, especially if they are silicone treated. Paracord or other cord are used to close the sock and they can also be useful if you need to wipe down you gun. We don't review any gun socks below but Knit Handgun Gun Sock, Size 14, Silicone Treated Handgun Sock, Fits Most Handguns.
Soft Tactical Pistol Cases
The final type of soft pistol case is the tactical pistol case or range bag. These feature a nylon mesh or ripstop outer material and foam and cotton/nylon interiors. Most will come with several compartments where you can place multiple guns, ammunition, extra magazines and small tools.
As the name implies, they are designed to be a quick way to transport everything you need to the range or other shooting events.  We don't review any tactical range bags in this article as there a many different options which warrant a post of their own (you can read more about them here).
What to look for in the Best Soft Pistol Cases
Now that you know you want a soft pistol case to transport your guns, which one do you need? What should you look out for when selecting the best soft pistol case for you? We're here to help. We know it should be a pretty simple process; pick the right size and you're on your way. But there's more to it than that. Check out the different things you should consider before buying your first (or tenth) pistol rug.
Size
How big is your gun? That's not a joke. You really want to find a soft case that will fit your gun. This should go without saying, but if the case is too small it does you no good. Many cases come in various sizes – the ones below usually have three or four size variations. We've tried to include inside and outside measurements in each of the reviews below to help you figure out which size should work for your handgun. It's an important first step in buying a soft pistol case.
Protection
The next thing you need to consider when selecting a good pistol rug is the protection. While its obvious that a soft case will not protect your gun like a hard case, it does offer enough protection for how it's used. If you're just transporting your gun to and from the range or storing it in a safe then a soft pistol case should offer enough protection so your weapon doesn't get damaged. Which is the whole point.
Padding
The outside of the case will protect your gun from falls, bumps or from sliding around. The inside of the case needs to hold the gun in place in case any of that happens. The padding is what does this. Most soft cases (especially those reviewed below) have enough padding so that your gun is held securely in place during transport. It could potentially be dangerous if your gun is free to flop around inside the case. You should look for padding that's at least 1/2″ thick.
Security
The last thing you should consider with a soft case is the level of security it offers. We put this last because it should be obvious that a SOFT PISTOL CASE isn't going to be really secure. Thieves could easily swipe the gun, case and all, right out from under your nose. But you still want it to offer some level of security. Many of the cases below feature zippers that are lockable with a travel lock and one even has a lock built-in which keeps the zipper from creeping up or opening too easily. If nothing else it's a reminder to small hands that they're not supposed to be in it. We recommend a trigger lock for added security while using a soft handgun case.
Top Soft Pistol Cases Review Summary
We've put several top selling items to the test and compiled a summary of our findings below. If you're looking for the best, one of these should fit the bill. Continue reading to see the results of our testing and research.
The Allen Locking Handgun case is an fantastic soft pistol case. The exterior is made from heavy duty Endura fabric (which is a tough nylon). This ensures that the contents are protected from scuffs and most impacts. It's double stitched on the seams and features a great little locking mechanism on the zipper which comes with two teeny-tiny keys. The lock is small and will deter most "curious folks" but is obviously not designed as a secure pistol case. More than anything, the lock is designed to keep the zipper from opening during transport. It is a soft case after all! The padding is nice and thick and offers great support for your handgun.
We found that it held the guns securely and over time would conform around your gun. The biggest question about any soft case is "will it fit my XXX gun?" There isn't a great way to find this out other than by going off of the recommendations from the Amazon description. It comes in 6″, 8″, 11″ & 13″ sizes. This is the external length on the long end of all cases. The internal dimensions we found were pretty consistently 3/4″ smaller than the external dimensions for each case. You can measure your overall gun dimensions or find them on your gun manufacturer's site. This can give you a good idea of the size of case you'll want. If you do order the wrong size, Amazon & Allen have historically been very good about returns & replacements for the correct size. Allen makes their cases in the USA. Check price on Amazon.
Uncle Mike's Pistol Rugs are well known for being quality made and for offering the protection that you want in a soft pistol case. While it's called a "soft case", or soft pistol rug, it actually features a semi hardened outer shell that's form molded to offer a bit more bump protection. The zippers open a full 180 degrees which allows the case to lay flat when opened which makes for a decent rest for shooting. This pistol rug is perfect for storage and transport offering a plush interior that will protect your handgun from scratches or bumps that would come from no case or being in a case with other guns.
We were able to fit a small .38 Special, with a trigger lock and a small box of ammo in this rug. The case we reviewed was the medium but they also sell a small and a large. The medium is roomy enough for a Glock 19, a 1911, or other similarly sized revolvers and semi-automatic pistols. Uncle Mike's site says that the interior dimensions of the medium are 11″ X 7″ and it will fit most revolvers with a 3 – 4 5/8″ Barrel revolvers, 4-5″ barrel large autos. Another great feature is that it offers a lockable zipper. This is done by locking through the zipper hole and connecting it to the nylon tab at the closed end. While this obviously doesn't prevent theft, it is a bit more of a deterrent and signals "you aren't allowed" – which can be a good reminder to kids. Check price on Amazon.
Bore Stores has a long history of USA made gun rugs and gun socks. They are known for having cases that are as close as you can get to custom from a mass-production run. The P-2 Gun Storage Case is not an exception. It is treated with silicone and a specially-formulated rust inhibitor which gives you years of worry-free storage for all sizes and types of firearms; as well as barrels, magazines and knives. This special coating doesn't leave any residue on your pistol and it doesn't require re-application. It's infused in the material of the case and provides years of protection.
The P-2 is about 8″ deep and 6 1/2″ wide. The simple closure system is Velcro which allows for quick access but the silicone still gives you long term storage. A good vault or safe is recommended if you want to SECURELY store your pistol as this soft case isn't secure. If there is any question regarding the fit of your particular gun you can find a great calculator on Bore Stores' site – linked above. This will ensure you get the correct sized case for your specific gun. The ID indicates the size of soft pistol case: P-1, P-2, P-3, etc. however these numbers are arbitrary and many reviewers (including our own) were confused by the sizing. Your best bet is to use their calculator. Bore Stores takes great pride in purchasing all of their manufacturing needs in the United States. Check price on Amazon.
**Best Soft Pistol Case for Women**
Bulldog is well-known for producing great gun accessories and they deliver on this Muddy Girl Pistol Rug. As a soft pistol case, targeted specifically at females, this case functions well. The exterior is made from ballistic nylon which gives you a strong exterior that will protect from impacts, scuffs, scratches or other things that may be thrown at it. The shell has an accessory pouch on it for anything you might need to keep in it's Velcro enclosure.
Another great feature is the double stitched nylon handles for easy transport and use. It's also water resistant which is certainly a plus. It has a full length zipper that opens all the way so the case lays fairly flat which is helpful at the range. Finally there is a supple 1 3/4″ of padding to keep your gun protected. This case only comes in one size; exterior size is 12″ x 6″ and interior size is 10″ x 5″. Check price on Amazon.
The Classic Safari Pistol Rug is a soft case that does what it is supposed to do at a great price. When we tested this case it was offered in both black and traditional camouflage print. The exterior is made from a durable nylon and the interior has a enough padding that your gun is held snugly in place. The zipper opens a full 180 degrees which allows the case to lay flat when open. This case only comes in one size (that we could find) and it measures 8 1/4″ X 5 1/4″. There is a metal tab on one end of the case which gives you the option to lock the zipper closed if you have a small travel padlock or luggage lock. The Classic Safari Pistol Rug gets our vote for **Best Cheap Soft Pistol Case** as it offers everything you need at a great price! Check price on Amazon.
Another Contender for Best Budget Soft Pistol Case is the BLACKHAWK Sportster Pistol Rug, Medium it's worth checking out as well!
Conclusion – Find the best Soft Pistol Cases for you!
You've just read through a couple thousand words talking about different pistol cases. But which one is the best? Really, it comes down to the one that is the is right for you! We've given you enough information that you should be able to find a case that works for your situation. You just have to know what you need and keep a few things in mind while shopping. If you still have questions you can just pop a comment below but hopefully you found one of the best soft pistol cases for you in the reviews above! The items above are the leading Soft Pistol Cases that we could find on Amazon and other online stores. After reviewing, testing and doing our homework, which one is our top pick?
Still Hungry for More?
We can't blame you… you've made it this far so that must mean you're really into Soft Pistol Cases, so we're here to help. We know some of you aren't totally convinced that the products listed above are really the best ones for you. So we've broken everything down even more. Want to know which is the cheapest? What about the best ones for beginners…we've got those too. Follow the link below to get even more.