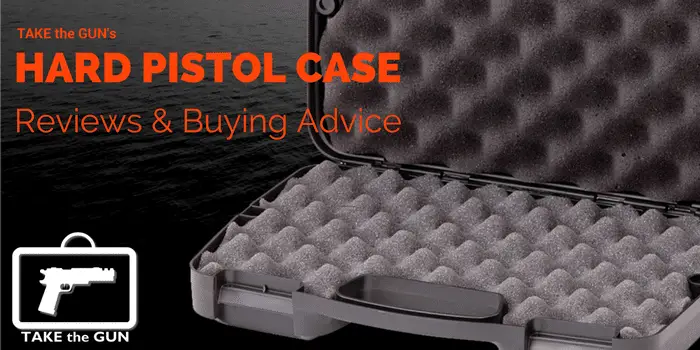 Most of us don't really think about pistol cases before we buy our first couple handguns. But after you have to transport a gun any distance you soon realize the value of them. But which one works best for your needs? Read our hard pistol case buying tips below and see which case we feel is the best one out there today.
Hard Pistol Cases Buying Advice
You love your guns. You love shooting them. You even love cleaning them. But do you love them enough to make sure you're transporting them properly? Follow along as we check out the best hard pistol cases on the market.
Why would you want a hard pistol case?
Do you need a safe place to store your pistols while you travel? Do you want something secure that offers protection while at home as well? When transporting your gun, you want to make sure it's in a safe place. Safe for you & your passengers and safe for the gun. You don't want it to get damaged and you certainly don't want it to get into the wrong hands. And let's not forget, in some states, it's ILLEGAL to travel with a gun that isn't in a lockable case – even in your private vehicle.
Likewise, when your guns are at home, you want them stored in a safe place. The best option is a gun safe, but if you only have a couple of guns that can be too much. A good, lockable pistol case can work perfectly. If you're shopping for your first hard pistol case, you'll want to keep reading to get buying advice on what to look for and what's really important.
Features & Benefits
As mentioned already, a good hard pistol case will offer protection inside and outside the case. A pistol case provides a secure way to transport your guns and a safe place to store them when not traveling. The hard exterior offers protection from bumps, drops and crushes. The locking mechanism will ensure that your revolver, semi-automatic or compact carry pistol stays where it's supposed to. Most importantly, a great case will ensure that you obey your local "gun transportation" laws and keep your gun where it needs to be at all times.
A lot of the same principles we used to find the best binocular hard cases were used to determine what you need in the best pistol hard cases.
Types of Hard Pistol Cases
There are a few different types of pistol cases. There are soft cases, hard cases, multi-gun cases and cases that are designed to allow you to discreetly carry your weapon without making it obvious that you're carrying a gun (Covert Cases). Of these four types, we're going to focus on the hard pistol cases in this review. Within the category of hard pistol cases, there are a few different types as well – these are broken down by the type of latch, the type of padding and the seal & protection they offer.
Closure & Security
Hard cases primarily have two types of closure systems. There are latches, and there are sliding locks. The latches are the more common type, but even within this category, there are a couple of variations. There are full plastic latches that close by pressing a bump on the latch over a bump on the case itself. This creates a fairly tight seal, but the plastic latches can pop open if bumped the wrong way. They aren't the most secure type, but they are the most prevalent and they do work.
Another latch is similar to the type found on fishing tackle boxes. This usually has a metal hoop that goes over a contoured section of the case. A lever is used to pull the hoop tight and is secured in place by the leverage & pressure of the seal. These are more secure than plastic latches but could be considered overkill for a single gun case. Finally, the sliding latches, which are less common, are found on some cases. All the cases we review below will also have holes where a gun lock or padlock can be applied to secure the case further. If you plan on flying with your case, you HAVE TO LOCK IT.
Padding
The shell of the case protects your gun from external forces. The padding protects the gun from damage while in the case. You don't want your gun knocking around with the other contents of the case. If you're packing extra guns, ammo, magazines or tools, you want your padding to keep everything securely in place. Without it you will scratch the gun. Another thing you want to consider is if the padding is customizable.
Many manufacturers offer the "Pull and Pluck" type of padding that lets you shape the foam to perfectly fit your weapon. This is a great feature, but it isn't absolutely necessary if you are on a tight budget. Many cases will have egg-shell padding on one or both sides of the case. This functions well as it holds the gun in place, but it isn't easily customizable and is pretty generic.
Protection from Elements
Several high-end hard pistol cases say they are dustproof, waterproof and crushproof. How do they achieve this? Most of this comes from the design. The cases that are waterproof and dustproof will usually have an o-ring seal that goes around the lid. Once closed, this seal will compress and form an airtight & waterproof seal. This protects the gun & contents from getting moisture or dust. But it also presents a problem if traveling with a gun – especially flying. The pressure in the case when it's closed doesn't have a way to equalize with the air pressure outside of the case; as such, the case could literally "explode" if you travel with it. Fortunately, cases with a tight enough seal will include a pressure equalization valve so that air can escape if needed. So if your case says it's waterproof, ensure there's a pressure valve on it somewhere.
What to look for in the Best Hard Pistol Cases
Okay, you've established that a hard pistol case is just what you need. But what things should you look for when shopping around for a good case? Honestly, the final decision is up to you, but we'll tell you a few things you should look for on your journey.
Size
One of the first things you need to consider is the size of the case. Are you packing a small subcompact, or are you going full "Dirty Harry" with a ginormous .357 Magnum? Both of these guns can fit in a hard case, but only if you select the right size. Also, do you want room for spare ammunition or magazines? What about a scope or another gun? You need to know what you will be carrying around. The best advice is to take your gun and any accessories you want to carry, arrange them on a table as if they were in an imaginary gun case and then measure the area. That will give you a rough idea of how big your case needs to be.
Protection
Most people want a hard case because they want to protect their gun inside. You want to ensure that any case you buy offers the level of "crush resistance" you need. If you plan on tossing the case in the back of a truck with your buddy's guns, you need to make sure that the case you buy will work for your needs. It should offer significant crush protection and a secure closure system that won't accidentally open during transport.
Security
Finally, you want to ensure that your case is as secure as possible. In many states in the US, you are legally required to lock up your weapon when it's in transport. I'm not going to pretend to know all the laws, but I do know that even if your state doesn't explicitly require it, you still want to lock your case when you aren't using your pistol. Many cases will come with lock holes where you can attach a gun lock or a couple of padlocks. Additionally, TSA guidelines require you to have two locks when you check your gun, so make sure you buy appropriately if you plan on flying with a part of your collection.
Top Hard Pistol Cases Summary
We've put several top-selling items to the test and compiled a summary of our findings below. One of these should fit the bill if you're looking for the best. Continue reading to see the results of our testing and research.
Product Name
Our Favorite
Cedar Mill Firearms Hard Pistol Gun Case
Premium Tactical Supply Hard Pistol Case
Waterproof & Airtight
Pelican 1200 Case With Foam
Plano Molding 10-10137 Pistol Case
Best Value
MTM 2 Pistol Handgun Case
Preview
Security
Slide Closure w/ Lock Tabs
Slide Closure w/ Lock Tabs + Cable Lock
Flip Lock Latches + Lock Tabs
Locking Clasps + Lock Tabs
Locking Clasps + Lock Tabs
Our Favorite
Product Name
Cedar Mill Firearms Hard Pistol Gun Case
Preview
Security
Slide Closure w/ Lock Tabs
Product Name
Premium Tactical Supply Hard Pistol Case
Preview
Security
Slide Closure w/ Lock Tabs + Cable Lock
Waterproof & Airtight
Product Name
Pelican 1200 Case With Foam
Preview
Security
Flip Lock Latches + Lock Tabs
Product Name
Plano Molding 10-10137 Pistol Case
Preview
Security
Locking Clasps + Lock Tabs
Best Value
Product Name
MTM 2 Pistol Handgun Case
Preview
Security
Locking Clasps + Lock Tabs
The Cedar Mill Firearms Pick and Pluck case is a fantastic way to store and transport your handgun. The case has many features that make it very functional. First off, the polypropylene shell is reinforced with carbon fiber and is dustproof, water resistant and crush resistant. Cedar Mill made this hard pistol case with a true sportsman in mind by making it 12″ long, 10″ wide and 3.5″ deep so it will fit just about any handgun or revolver. The "pick & pluck" foam padding is easily removed, so your gun has a snug and protected spot. This is done by removing small cubes of foam to customize the fit of your gun & accessories.
The case is large enough that we found you could easily fit a couple of sub-compact pistols in it or a larger gun with magazines. Another nice feature that Cedar Mill created was the shell's interlocking design, which makes these cases very stackable – for those of us with multiple guns. Finally, the case is TSA certified with lock holes and locking handles so you can travel with your guns without fear of losing them. You will, however, have to supply your own lock(s) as it doesn't come with them. Check Price on Amazon
At the time of this writing, the Premium Tactical Supply (PTS) hard pistol case was one of the best-selling (and highest rated) pistol cases on Amazon. If you've been looking into hard pistol cases, you'll notice right away why this case ranks so well.
The outer shell is hard and offers significant protection from use and abuse. It features two sliding locks on either side of the handle opening. This creates a tight closure and, once locked, with the included gun cable lock from PTS, is very secure. PTS's customer service seems to be on-point as they have recently started shipping these cases with thicker padding – based on buyer feedback.
While the padding is thick and holds your guns safely in place, it doesn't offer the ease of customization that the Cedar Mills or Pelican cases do. You'll have to "customize" it with a razor blade. This case is designed as a single gun case, but there is enough room for a gun and several magazines as it measures 10″ long, 6.5″ wide and 3″ deep (which is enough space for most Glock handguns & many revolvers).
Finally, this hard pistol case is TSA compliant and qualifies as a "locking case" for several state laws. Check Price on Amazon
I'm pretty sure Pelican's philosophy is "anything worth doing is worth doing a thousand times more than you'll ever need." This case is over-engineered, and because of that, it's awesome. The Pelican 1200 hard case is designed to be big enough and deep enough to fit cameras, guns or any other type of equipment.
Pelican cases are waterproof, incredibly strong, and have flip lock latches and ports for locks. As a hard pistol case, it's very functional. At 9.25″ long, 7.12″ wide and 4″ deep, this case has more than enough room for most compact pistols and revolvers.
The padding is ample and easily customizable. Several owners have figured out how to fit two guns, in this case, on top of one another by cutting the foam in half. Finally, this case is strong enough to be stackable and TSA compliant. Check Price on Amazon
Plano is well known for making great cases and tackle boxes. They jumped right into the gun world with their 10-10137 pistol case. This case has all of the essentials you need in a pistol hard case – it has locking clasps, interior padding, a strong molded plastic shell and holes for locking the case during travel.
At 11.625″ X 7.125″ X 2.25″ internally, this case fits most pistols and revolvers, including extra magazines, ammo or other accessories. The padding is standard "egg crate" foam and does a good job of compressing the contents, so they don't shift.
Several owners (and one TTG tester) flipped the bottom layer of foam and used a razor blade to customize it to fit their gun even more precisely. This works. The Plano hard pistol case comes with steel hinge pins (most of the time) which create another layer of security.
As far as negatives go, several testers said that the lock holes' placement allows a "determined person" to get into the case. They're placed in the middle of either side. One solution would be to place a lock on the handle area, which would prevent opening, but we're pretty sure the TSA requires two locks for travel. Check Price on Amazon
The MTM 2 Pistol Handgun & Revolver Case has been voted as the "Best Value Hard Pistol Case" for several reasons. First, the size makes it useful for almost all semi-automatic pistols and almost every revolver we tested. It measures 15.5″ x 12.2″ x 3.6″ on the outside and inside it's a very roomy 14″ x 10″ x 3.1″.
This makes it a perfect revolver case for those big "Dirty Harry" guns you want to lug around. Second, the shell is made from very durable and rugged polypropylene with a textured finish, so it doesn't slip around in transport.
There are double padlock tabs (holes) on either side of the handle opening, making it a great place for a cable lock or a couple of smaller padlocks. Because of this, it is TSA compliant for travel when locked.
Third, the case is priced lower than many similar cases on the market – granted, that could change, but for now, it gives you a great bang for the buck.
Finally, the foam padding is stiff enough to hold your weapons in place but soft enough to gently hold them without damage. The MTM case is proudly made in the U.S.A. Check Price on Amazon
Conclusion – Find the best hard pistol case for you!
So which is the best case? The one that is right for you! We've given you enough information that you should be able to find a case that works for your situation. You just have to know what you need and keep a few things in mind while shopping. If you still have questions, you can just pop a comment below, but hopefully you found one of the best hard pistol cases for you in the reviews above! The items above are the leading Hard Pistol Cases that we could find on Amazon and other online stores. After reviewing, testing and doing our homework, which one is our top pick?
Best Overall: Cedar Mill Firearms Hard Lockable Waterproof Pistol Gun Case
It was a difficult choice, but the Cedar Mills case won out in our minds. While both the Pelican and Plano cases are excellent choices, we thought the Pelican was overkill with all of its features – as it should be, it's made first as a dry diving case. And the Plano case is on the other end of the spectrum with not enough features. That makes the Cedar Mills case the Goldilocks case – It could be said that this is the best hard pistol case because it's "just right".
Still Hungry for More?
We can't blame you… you've made it this far, so that must mean you're really into Hard Pistol Cases, so we're here to help. We know some of you aren't totally convinced that the products listed above are really the best ones for you. So we've broken everything down even more. Want to know which is the cheapest? What about the best ones for beginners…we've got those too. Follow the link below to get even more.