This article is all about finding the best shotshell reloader for your shotguns. It wasn't an easy task given the current environment. Many of the reloading presses that used to be our "go to" tools are unavailable.
Maybe it's because they are in really high demand. Or maybe it's because there wasn't much demand for a shotgun shell reloading press – because shells are available in most sporting goods stores (at least the ones who haven't caved to pressure to remove guns & ammo from the shelves!).
I turned into a clay target shooting addict the first time I tried it. Each time you hit the flying target, your soul gets nourished with a divine feeling. It's hard to get enough of the game, and you could easily end up needing 100s of shotshells each month.
During clay pigeon shooting, you need quality ammo that can produce the right spread. Cheap ammo may leave you scoring a lot of zeros each time you miss the clay. Or when you get close, but it, unfortunately, fails to show visible signs of being broken.
Quality ammo is expensive, and that is why I prefer reloading my own shotshells. This saves me a lot of money, allowing me to practice more frequently without worrying about my budget.
Let's dive in, and I'll help you find the best shotshell reloader for the money so you can also start reloading your bullets.
Preview
Best Choice
Best Manual Reloader
Best Progressive Reloader
Product Name/Brand
Lee Precision II 12 Gauge
Forest Camping Shotshell Reloading Crimp 12 Gauge
Best Choice
Preview
Product Name/Brand
Lee Precision II 12 Gauge
Best Manual Reloader
Preview
Product Name/Brand
Forest Camping Shotshell Reloading Crimp 12 Gauge
Best Progressive Reloader
Preview
5 Best Shotshell Reloaders Reviewed
Let's have a look around the best shotshell presses in today's markets. I have tested more than 10 models over the years and chose the top 5 that are currently available (as of publishing) and promise users the best value for every dime they spend.
I tried to narrow my tests to the most common shotgun gauge – the mighty 12. Many of the presses below are available in multiple sizes but the links are primarily to the 12 ga. version.
I'll start by taking you through a shotshell reloading press that is ideal for the budget-conscious shooter.
Pros
Affordable and easy to use
Comes with shot and powder bushing
Safety charge bar and steel sizing ring included
The package comes with a 6-8 point crimp starters
16, 12, and 20 gauge reloading press
Cons
Slow, compared to other models
This model offers a good deal because it allows you to reload a reasonable selection of gauges at an impressive speed of 200 shells per hour. Although this may be slow, compared to other models, it's a worthy deal for the price.
This is a gauge 20, 16, and 12 reloading press. You can, therefore, reload your 2 ¾ and 3-inch shotgun shells. One of the outstanding perks of this equipment is that it features an in-built primer catcher that is remarkably easy to access and empty.
Another impressive feature is the hopper that can hold about 5lbs of shots. You can load about 100 shells at one go to keep your press refilling your ammo non-stop for about 30 minutes. Better still, the equipment comes with sixteen powder bushings and eight-shot bushings, which is not common, even when buying shotshell reloaders that have a higher price tag. Check price on Amazon.
Pros
Available in 20, 16, and 12 gauge variations
Made of aluminum components
3-4 boxes loading rate per hour
Lightweight and easy to operate
Creates accurate and high-performance ammo
In stock & easy to use
Cons
Feels cheap
Slow & requires attention to get loads right
Requires additional tools to deprime & prime (check out #4 below)
With this tool, you enjoy a very simple format that is ideal for first-timers or hobbyists. You can take your time and manually load your shotshells exactly how you want them.
Setup requires a bit of work. You can mount it to your workbench horizontally but we found that isn't the ideal configuration. We rigged up a vertical 2X6 in a vise where we could then mount the crimper in a vertical position. This gave us more consistent reloads.
Once you deprime and reprime your husks you can load them to your specs. You can load/fill while the husk is in this vertical position.
Once refilled you simply apply pressure and spin the handle 6-7 times. You can use the drill adapter but we found it was just as easy doing it by turning the handle.
The roll crimping is tight and pretty uniform which gives you a consistent shot. Even though this device will not reload more shells per hour, it is quite accurate and can create high-performance ammo for sport shooting.
If you do not shoot trap or skeet each day, then you may find this equipment to be ideal. It produces about 3-4 boxes per hour and makes quality crimps to ensure unmatched accuracy. On the downside, this unit feels flimsy & somewhat cheap.
The final complaint I had was that it can be hard to figure out. From beginning to end, I had to try various things in order to get it right. I will probably work on creating a video tutorial to make it easier to learn how to use it. Check price on Amazon.
Pros
Enhances accuracy and performance of ammo
2 automated stations for quick and easy shell reloading
A durable unit made from quality cast aluminum
Extra features for increased ammo recreation efficiency
Shot hopper capacity
Steel sizing ring included
Cons
Next up we have a stupendous shotshell reloader by RCBS. If you want to recreate ammunition that has extra accuracy and better performance, this is a model I highly recommend.
You embed your 12 gauge shells into station 1, and at station 4, put the wad in its wad guide. Every other station is automated for easy and quick shell reloading.
Another outstanding feature is that this press is made from top-quality cast aluminum. This assures you of making a one-time investment that will soon pay itself off because of the tons of saving you will be making.
The press comes with features such as an auto-ordering framework and a preliminary feed framework for enhanced efficiency.
This is a robust ammo processing plant that is unfortunately not cheap. Luckily, you can make significant improvements in the quality of your ammunition and save considerable amounts of money over time. Check price on Amazon.
Pros
Simple & Low cost
Available in 20, 16, and 12 gauge variations
3-4 boxes loading rate per hour
Lightweight and easy to operate
Creates accurate and high-performance ammo
In stock & easy to use
Cons
The equipment has some plastic components
Instructions not clear
This is a mighty shotshell deprimer, primer, reloading press and crimper all in one small package. The best part is that it's very inexpensive and great for any hobbyist.
If you like handloading your own shotgun shells then you're like that this tool gives you crimping is tight and uniform which gives you a consistent shot.
It's slower to use than a progressive or single stage press with hoppers. And it will not reload many shells per hour but it is quite accurate and can create high-performance ammo for sport shooting.
If you do not shoot trap or skeet each day, then you may find this equipment to be ideal. It produces about 3-4 boxes per hour and makes quality crimps to ensure unmatched accuracy. On the downside, this unit feels flimsy & somewhat cheap.
Similar to the other crimper/reloader from Forest Camping, this tool is simple, effective, easy to setup and incredibly confusing to get started! To help everyone with my recommendation, I will probably work on creating a video tutorial to make it easier to learn how to use it. Check price on Amazon.
This press is one that has had supply issues. Sadly, it was out of stock for quite some time and that greatly impacted our rating. If it was in stock more often we would have rated it much higher. If it's out of stock again, check out our #1 pick!
Pros
Best progressive press
Can reload 2 ¾ as well as 3-inch shells
Works with 12, 16, 28, 20, and .410 gauges
Automated indexing and shell ejection
Designed to create accurate and high-performance ammo
Lightweight and easy to use
Easy to adjust charge bar included
Cons
If you are a volume shooter, here is a shotshell reloader that will not disappoint. It allows you to reload several shotshells at once, and this should increase your ammo production rate per hour.
This is a sturdy bullet processing plant that can reload 3-inch as well as 2 ¾ inch shells. Even though this press is best for reloading 12 gauge, it can also work with .410, 28, 20, and 16 gauge ammo variations.
This is the best progressive shotshell reloader that can help you enhance the overall quality and performance of your ammunition. The auto-dex(TM) helps with automated indexing and shell ejection, and the factory set speeds ensure uniform movement for more accurately sized shells with each stroke.
Something outstanding about this model is that it is an upgrade of another MEC press that was not that bad. The new improvements make the 9000GN model lighter, more efficient, and easier to use by people of all skill levels. Check price on Amazon.
Features to Consider before Buying
Shotshell reloaders are not cheap. For you to enjoy the best value for your money, you must choose a device that is a perfect fit for your needs. Here are crucial factors to take into account before purchase.
There are two main types of shotshell reloaders: single-stage and progressive stage presses. Single-stage presses are affordable and have stations where you reload one shell at a time. This can be a time-consuming process, and this option is hence best for casual shooters.
Progressive shotshell reloaders are a perfect option for volume shooters. These presses are more advanced and have a range of features that make them over five times faster than their single-stage counterparts.
The extra reloading speed and extra features, however, make progressive shotshell presses more expensive.
Let's face it; it makes no sense to purchase a powerful press that you can hardly use. For any device to be practical, it needs to be easy to use. This will ensure that you make the most out of its features and functions.
To get it right, you must also understand your level of skill. Presses are designed for specific user skills, so you need one that you can handle without breaking a sweat. If you are a first-time buyer, consider choosing a simple to use the machine. You can then invest in an upgrade in the future.
For your information, a quality and well-maintained shotshell reloader press will still have good resale value after years of use.
If you need the best shotshell reloader for the money, you must consider the construction and engineering of various press models. Make sure you choose a product made with sturdy metals such as aluminum and steel.
In case a specific device has some plastic parts, there is a good chance that it will not withstand heavy-duty use. Be sure to find out what the users of brands that interest you have to say about their experience.
What caliber are you reloading? This is a question you should ask yourself beforehand. Shotshell reloaders are created differently, and while some only reload one specific gauge, others can convert several calibers.
From my experience, it is better to choose equipment that allows you to reload not just 12 and 20 calibers, but also16, 28, and .410 gauge shotshells.
Shotshell Reloader Mechanism
Your speed of reloading shells will depend on more than just your skill level. Even if you have polished skills, you may find yourself reloading no more than 100 rounds an hour if you are using a press with a slow reloading mechanism.
Simply because you are reloading your bullets does not mean you can make quality compromises. In case you have been playing clay target shooting long enough, the chances are that you understand the need to have quality ammo.
A shotgun reloading press that is not built with accuracy cannot produce top quality finished shells.
Each shotshell press will have a uniquely designed station. Think about your needs and skill levels before choosing the kind of station that best suits you. The right one will not be prone to spillage.
Different Types of Shotshell Reloader
Modern shotshell presses are, in most cases, gauge specific. It is possible to buy conversion kits, although most people prefer getting extra presses for each shell gauge.
Traditional reloader presses allowed users to refill a range of shell gauges. This unfortunately made the process of converting different gauge shells time intensive and not so cost-effective.
Currently, you can choose from two main shotshell reloaders.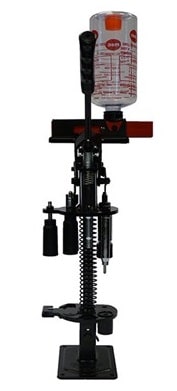 This device offers affordable, reloading solutions. There are several stations where you can load one shell at a time. Even though you can reload 5-8 shell boxes per hour, volume shooters may find this to be a little too time-consuming. Single-stage presses are a top choice for casual shooters.
Progressive Shotshell Press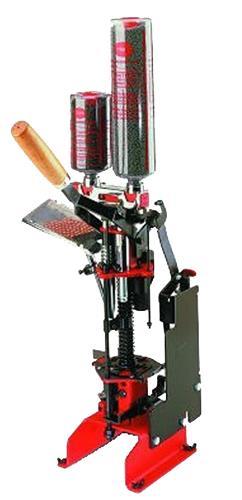 This type of device is best for high volume reloading. Progressive reloaders are expensive, although they have a practical mechanism where you create a new shell with each pull of the arm. This accelerates the production speed, making it a perfect choice for volume shooters.
Modern shotshell reloaders have practical, easy to use designs. Whether you choose the single-stage press or the progressive press, you can look forward to making top-quality ammo that is ideal for target shooting.
Check out my thoughts on LEE loadmaster progressive press.
Which Gauges Should You Reload?
If you compete, I guess it is only fair that you get to reload various gauges that you typically use. If you are reloading top quality shotshells that usually cost more, you are likely to save tons of cash with your shotshell press.
12 and 20 gauge shells are cheap, especially when you buy them in bulk. This means you may not save much reloading these bullets.
On the bright side, you will now be in a position to twitch up their quality, making them better for your competitions. A quality press will create better bullets than those you can purchase at big box stores.
Where the real savings come in is reloading expensive ammo, perhaps bullets with rare gauges. In case you are reloading 16, 28, or .410 gauge shotshells, for instance, you could find yourself saving over 40 percent of the overall cost of each shell.
Do your calculations to find out how much money you save each month? For a volume shooter who uses rare gauge shotshells, your savings can quickly pay for a high-quality shotshell press in a matter of months.
Before calculating the savings you must gather knowledge on shotshell reloading process. You can check this guide here. Also, you can check these manuals.
Cost Saving by Reloading
The first question that people ask when they see me reloading my ammo is how much money I save. Well, it depends on the quality of the ammo I'm reloading. I use cheap target loads to scare away critters from my backyard.
Such bullets have cheap wads, cheap powder, and soft wads, so their performance and reliability are questionable.
In this case, my press makes sense because I can convert these cheap loads into quality ammo, ideal for target shooting. This saves me from spending tons of cash on bullets that I use during practice sessions. The reloaded ammo is harder, and this makes its performance patterns more consistent.
I make impressive savings when reloading my hunting shells. They are 2-3 times more expensive than what I use to scare away raccoons and squirrels. Reloading my ammo, in this case, saves me about 40% of the cost of each shell.
The most significant perk of using a press is that I can produce even better hunting shells. I like altering my loads to ensure excellent performance patterns when shooting across both long and short distance ranges.
Improving the accuracy and performance of my ammunition ensures I achieve my primary objectives each time I hit the fields.
Frequently Asked Questions
1. Why should I reload shotgun ammo?
It is possible to buy ammo that is ready for use. However, one compelling reason to reload your ammo is for you to improve its quality and enhance its accuracy and overall performance.
2. Do store-bought bullets perform better?
Usually, shells reloaded using a press have better performance consistency. This more so the case when a skilled individual reloads them.
3. Will I make any savings by reloading my ammunition?
Yes, you can look forward to saving money. However, the amount you can save will highly depend on the kind of ammo that needs reloading.
Other aspects that may determine how much you save include the type of shotshell reloader you purchase as well as the gunpowder you use. Generally, reloading your rounds can save you 25%- 50% of the overall cost of your ammunition.
4. What do I need to reload shotgun ammunition?
The standard shotgun shell reloader should help you reload all kinds of rounds. This is irrespective of their size or weight. It is, however, crucial to understand that some reloaders are gauge specific. Most people use 12 or 16 gauge ammo for target shooting and hunting small game.
5. Do I buy a single-stage press or a progressive press?
It all depends on your needs. If you are a casual shooter using 20-30 rounds a day, a single-stage press is possibly your best option. Volume shooters are, however, better off investing in progressive presses.
Final Words
Times are hard, and most people are open to all avenues of saving money. Even though quality shotshell reloaders are not cheap, they will save you a lot of money in the long haul.
The most significant benefit is that you can enhance the quality of your ammo to ensure better accuracy and performance. Our guide should make finding the best shotshell reloader a breeze.