A gun safe desiccant is one of the best ways to keep your guns and ammo dry while in your gun safe. Due to the constant temperature swings in most cities, a significant level of condensation tends to buildup on the majority of firearm safes. Especially if you live in an area with high humidity.
This leads to rust, corrosion, mildew, and physical deterioration of guns of all sizes as well as ammo, and even cash. If you live in a very humid area, you can't afford not to find an effective solution to get your guns dry all year round.
If this is your first time of buying a safe, it is recommended that you purchase a quality drying agent as soon as you order it. If you already own one, it is imperative that you decide on a dehumidifying solution as soon as possible.
Keep in mind, the following are "passive" silica gel dehumidifiers for your gun safe – there are active gun safe dehumidifiers we've covered in another article.
Best Gun Safe Desiccant Comparison Table
Preview
Best Value
Electronic Recharging
Simple Solution
Product Name
Hornady Reusable Canister Dehumidifier 750G, 95902 - Portable, Easy to Use Moisture Absorbers for Gun Safes & Cabinets - Prevent Moisture Damage for Gun Safe Accessories, Firearms in Your Gun Vault
Dry-Packs 750 Gram DP750CAN Silica Gel Canister Dehumidifier - Moisture Indicating
Hornady Rechargeable Gun Safe Dehumidifier 95900
4 pack of 112 Gram Silica Gel Desiccant Packets 6" x 4.5"
Lockdown Silica Gel, 750g
Best Value
Preview
Product Name
Hornady Reusable Canister Dehumidifier 750G, 95902 - Portable, Easy to Use Moisture Absorbers for Gun Safes & Cabinets - Prevent Moisture Damage for Gun Safe Accessories, Firearms in Your Gun Vault
Preview
Product Name
Dry-Packs 750 Gram DP750CAN Silica Gel Canister Dehumidifier - Moisture Indicating
Electronic Recharging
Preview
Product Name
Hornady Rechargeable Gun Safe Dehumidifier 95900
Preview
Product Name
4 pack of 112 Gram Silica Gel Desiccant Packets 6" x 4.5"
Simple Solution
Preview
Product Name
Lockdown Silica Gel, 750g
5 Best Gun Safe Desiccants Available For Sale
We have found the top 5 desiccants available on the market today for gun safes of every size. We came to this conclusion after kissing many frogs and testing different brands on the market.
We realized that these models have optimum moisture absorption rates which ensure dry firearm safes all the time.
The Hornady 95902 Dehumidifier Canister is an efficient desiccant specially built for those who own a rifle safe. It is equally effective for any other model of gun safe you may own.
This pack pulls moisture from the air inside your safe to minimize condensation and its aftermath effects. If you have a firearm safe anchored in your garage, this is one of the best drying agents.
The 95902 is equally recommended for those who live in tropical areas of the country where humidity levels can be so excessive.
These silica beads are easy to use and only require you to remove it from the package. It typically works flawlessly for 6 weeks at a time before recharging.
How do you know when its moisture saturation level is reached? Fortunately, each pack comes with a moisture indicator which alerts you when you need to recharge your desiccant.
PROS
Effectively pulls moisture from the air inside your gun vault or cabinet
Moisture indicator which alerts you when it needs to be recharged
Easy to recharge in any oven for 3 hours in 300F
Unlimited Recharges
CONS
Loses its moisture absorption capabilities quickly in humid areas (but can be recharged)
In our opinion, this little Hornady canister is the best gun safe desiccant you can buy to help protect your collection.
Click here for more reviews, pictures, and current pricing.
The Dry-Packs Silica Gel 750g is the best desiccant for gun safes after the Hornady canister above. It is the smartest option for avid gun owners who demand optimum dryness in their safes.
Whether you are worried about rust, corrosion, or mildew, this silica bead gets your safe or vault dry. It is designed to absorb high amounts of moisture from the air all over your security safe.
The desiccant canister prevents condensation and other harsh weather elements which can cause serious damage to the physical condition of your guns and important valuables.
The gel has a high absorption rate thanks to its durable vented can finish. This allows it to offer perfect protection in gun safes and vaults of up to 57 cubic feet.
The desiccant changes color when it is saturated with moisture. It comes with clear-cut instructions for easy recharging in the oven.
At last, your guns and ammo will never be exposed to rust, corrosion, and mildew again.
PROS
High moisture absorption rate keeps your guns always dry
Simple instructions for recharging in the oven
Covers safes of up to 57 cubic feet capacity
CONS
Not for you if you prefer electrical recharging
Click here for more reviews, pictures, and current pricing.
The Hornady Rechargeable Gun Safe Dehumidifier 95900 is a small and compact desiccant with an impressive absorption rate. It has been tried, tested, and found to deliver on its promise of keeping out moisture and molds.
In our opinion, it is the best rechargable desiccant canister on the market. It's made by a well-known gun accessories manufacturer, Hornady, and it's rechargable – what more could you want!?!
This model absorbs high levels of moisture without the need to run any electrical wires or drill holes in your safe. It keeps your guns and valuables dry on its own with absolutely no requirement for batteries or electrical power outlets.
Have a large gun safe? No worries because this rechargeable cordless dehumidifier absorbs the moisture of up to 100 cubic feet. It works effectively for a long period of time and typically requires recharging every 30-45 days.
What if you have never owned a desiccant? How do you recharge it effectively with so little experience? Well, you just have to plug it into a power outlet overnight and it recharges fully.
It features a moisture gauge that tells you whenever it needs to be recharged.
Why would you pass up on this quality Hornady dehumidifying solution?
PROS
Effectively keeps out moisture from your gun safe
Moisture gauge which tells you when it needs to be recharged
Just plug it in an electrical power outlet overnight to recharge
CONS
Moves away from the traditional blue to pink color which indicates saturation, which can be sometimes confusing
Click here for more reviews, pictures, and current pricing.
The Dry Packs 20105800 is a 4-pack silica gel bag suitable for anyone who wants a no-frills drying solution. It affords you the flexibility to keep your safe dry the moment it arrives in the mail.
Just open the outer package, mount it somewhere in your pistol or rifle safe, and start reaping the enormous benefits of a super-dry gun safe.
This model comes in 4 packs with dimensions of 5×3.25 inches. Each pack has the capacity to absorb moisture from up to 8 cubic feet away.
This makes it easy to know how many packs to mount in your rifle or pistol safe.
Do you have to worry about the silica gel leaking into your gun safe? it's an absolute no!
This silica gel product is packaged in Tyvek, which meets the standards of the Food and Drugs Administration for the packaging of dry foods. You can be sure that this pack won't ever leak accidentally into your safe.
PROS
Super easy to use
Absorbs moisture of up to 8 cubic feet per pack
Packaged in durable, tear-resistant Tyvek
Moisture, Mildew, and Mold protection for your guns, jewelry, and other valuables
CONS
You may have to mount multiple packs at a time depending on the size of your safe
Loses its efficacy when recharged over time
Click here for more reviews, pictures, and current pricing.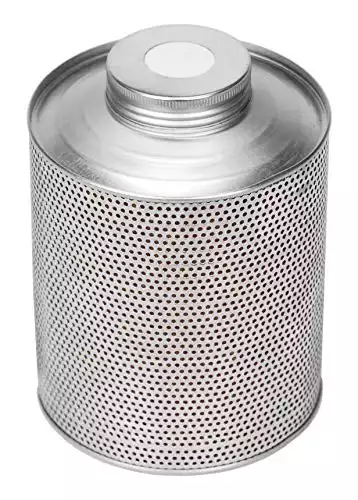 The Lockdown 750 Gram is another superb gun safe desiccant canister from the manufacturer's long line of gun safe heaters. It is easy to use and perfect for those interested in keeping their guns dry without batteries or electrical outlets.
You can be sure of getting you peace of mind for a long period of time after getting this silica gel heater. It can be reactivated over and over again when it gets saturated without losing its moisture absorption strength.
Just place it anywhere in your gun safe and it begins extracting excess moisture within its range. The lid features an orange moisture indicator which shows you when you need to reactivate it by turning dark green.
Lockdown's 750 Gram gun safe dehumidifying canister is easy to recharge and comes with specific instructions that anyone can follow. Just make sure you reactivate it when it gets saturated so your guns can continue being dry.
PROS
Requires no electricity or batteries to extract moisture from the air
Silica beads turn from orange to dark green when it is saturated
Easy to reactivate in the oven
CONS
The canister is quite fragile and can be easily dented
The size is a little overkill
Click here for more reviews, pictures, and current pricing.
What Makes Up A Desiccant?
Desiccants are bags that contain silica beads or gel which operate by absorbing moisture in your safe until it gets full. Silica is the most preferred drying agent used in the manufacture due to its super absorption rate.
In fact, most silica bags can absorb moisture to almost 40 percent of its overall weight.
No matter which model you choose, it's vital to know that there's always a limit to the amount of moisture that can be absorbed.
Once the full moisture capacity is reached, these silica gel bags usually change color. This essentially alerts you to recharge or replace it.
Advantages of Desiccants
So why should you choose a silica gel desiccant over other dehumidifiers commonly used in firearm safes? Let's take a good look at some of the reasons why.
No Need to Plug In
Most heaters such as the Goldenrod dehumidifier require plugging into an electrical outlet to be able to keep safes warm. Traditional blow drying machines also require electricity to work effectively.
These solutions work extremely well when used at home or in the office.
However, what happens when you want to store your gun safe in a hunting cabin somewhere in the woods with no access to electricity?
This is one of the reasons why silica bags are highly recommended. They require no form of electricity to keep the moisture in your safe to a minimum.
This makes it perfect for you whether your guns are stored at home or elsewhere.
Easy To Use
Placing a desiccant inside your safe is one of the easiest ways to keep your guns away from moisture. There are no complicated instructions for you to follow.
Your only job is to find the right size for your safe and mount it in whichever spot you decide.
It starts high-speed moisture absorption from your guns right from Day One so your valuables can stay dry. This makes silica gel dehumidifiers perfect for everyone from experienced gun collectors to complete novices.
Rechargeable
Sure each model has a specified amount of moisture it can absorb from the air at any point.
The good news is that you don't have to throw it into a bin once its absorption capacity is reached. That's the beauty of silica gel desiccants.
They are perfectly reusable and come with specific instructions to recharge it when it reaches full capacity. Many brands instruct you to place the bag in an aluminum pan and slot into your oven at a specific temperature.
The color turns blue again once it is completely dry, indicating that the silica beads are ready to absorb moisture again.
Other desiccant manufacturers require their products to be plugged into a power outlet for recharging before it can start absorbing moisture again.
It is common practice that silica beads require recharging every 30 days or so of use.
Fortunately, every brand comes with specific instructions so just follow it for easy recharging.
Affordable
A rifle/pistol safe desiccant is an affordable way to keep all sorts of firearms, ammo, and other valuables in perfect condition. While some dehumidifiers can cost about $100, silica beads are inexpensive.
With anywhere from $10-$25, you can get a multiple silica gel pack made up of a few reusable packs that can keep your safe dry for many years to come. If this isn't affordable, we don't know what is.
The Bottom Line
There are so many exceptional reasons why a gun safe desiccant is awesome for your guns and ammo. They have been tried, tested, and proven to be one of the best ways to keep your guns dry.
For most gun owners, the challenge is finding the right models so you can be sure of optimum dryness. This is why we have gone through the trouble of finding the top 5 on the market to guide you.
Just go ahead and scan through the features of each model above so you can decide what the best one for your guns is.
As a reminder, here's our top pick:
Best Value
Hornady 95902 Dehumidifier Canister | Gun Safe Desiccant
Hornady Silica Gel Dehumidifier Canister - protect your firearms, gun accessories, ammo and more from excess moisture, rust, and corrosion by keeping these reusable gun safe dehumidifier cans handy
Keep Your Gun Safe Moisture and Rust-Free - portable dehumidifier with highly absorbent silica gel to attract excess humidity from its surroundings. This Hornady dehumidifier is crucial in maintaining...
Compact, Easy to Use - ready to use gun safe dehumidifiers with no batteries or electrical equipment required. It easily recharges in a warm oven for infinite reuse. Measures: 4 inches H x 5.3 inches...
Humidity Indicator - ideal moisture absorbers for safes with desiccant crystals that change from blue to pink when it's time to recharge each desiccant dehumidifier unit. Simply recharge each canister...
Gun Safe Accessories for Your Lifestyle - further protect and preserve your firearms as they are being stored with this efficient Hornady Safe storage dehumidifier. Optimal for all of your small...
Check Price on Amazon
If you click this link and make a purchase, we may earn a commission at no additional cost to you.