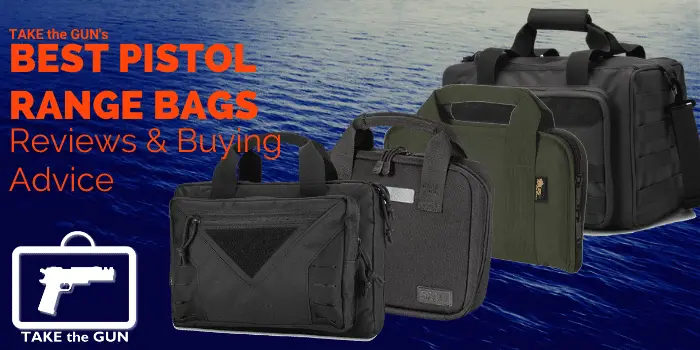 If you have decided to take up shooting as a new hobby, it is likely that finding the best pistol range bag is one of the last things on your mind. However, an experienced shooter will tell you how big of a mistake this can be.
If you want to find out more about why a pistol range bag is an essential piece of kit that you should consider purchasing, then continue to read this article. In addition to this, we will give you all the necessary information to help you make an informed decision on which pistol range bags are the best and the different factors and criteria that you should consider.
Keep in mind that we differentiate a range bag from a soft case in that a range bag can carry additional items beyond just your gun. You can check out our soft pistol case buying guide and see which gun rug we think is the best. (And if you really want to know what we think about definitions, you need to read our thoughts on the difference between a soft case, gun rug and gun sock article!)
Who needs a Tactical Pistol Range Bag?
If you are new to the sport or an avid shooter then a pistol range bag is a vital piece of kit that will significantly and positively affect your shooting experience. You may be thinking, why not just use any random type of bag such as a duffel bag?
Do you really need to get a pistol range bag?
This simply boils down to the fact that a pistol range bag was specifically designed for a shooting range, hence the name. For example, they have all the components and functions that make carrying your firearm, ammunition, shooting glasses, hearing protection and all the other wonderful pieces of equipment that you use to enhance your shooting experience.
This is important because often you will misplace key pieces of equipment such as your boxes of ammunition so having a pistol range bag will save you so much time and is very convenient. For example, you will not have to spend time digging through your bag to find the piece of equipment that you need as a pistol range bag is compartmentalized for your convenience. If you are an experienced shooter you will only know this problem too well and will understand the benefits of having this type of bag.
Ultimately, if you find the best tactical pistol range bag then you will only be saving yourself time and therefore allowing yourself more time to enjoy the benefits of being at a shooting range. If you are new to the sport and want to start off your journey in the right way, then it is only you right that you purchase this key piece of equipment.
For those who are already into shooting, you will know what we are talking about so don't be afraid to treat yourself to a great handgun range bag in order to make your experience that little bit better.
What are the buying criteria for a Pistol Range Bag?
There are several different factors that you should consider when deciding which pistol range bag is the one for you. One of these factors include the size and different compartments of the bag. It is important to know what pieces of equipment that you can actually fit in the bag and whether it will be able to hold all your things. This goes hand in hand with the bag size and depending on your needs, you will need to select the right one for you.
Another criterion that you should consider is the functionality of the pistol range bag. Not all products will have the same functions and features so be sure to select a bag that has all the cool ones. For example, some range backpacks will have an integrated water storage system. If you are the type of person who is into the tactical element of the sport or likes to go for extended shooting trips in the desert or mountains then having a range bag hydration system might not be the worst thing in the world.
One more significant factor that you should look out for is the bag type. There are a few different types of pistol range bags. The most common is usually quite small that can be carried around by hand. There are also some other quirky options such as a fanny pack version. These bags often offer an impeccable ease of access and portability. Just a few things you should think about before making your decision on which bag to get.
But by now you must be wondering, what are the best pistol range bags on the market?
The first product we have selected is the Procase Tactical Pistol Case, Shooting Range Pistol Bag. This bag has stellar reviews on Amazon and has all the functions and qualities of a great pistol range bag. The dimensions of this range bag are 12.5 x 9.8 x 4.3 inches so keep that in mind.
To begin with, you can carry 2 full size combat pistols as well as varying pieces of equipment. For example, there is space between compartments to allow users to fit in their hearing protection. As well as this, five built-in elastic loops in the front pocket are able to accommodate 5 double stack magazines or 10 single stack magazines.  
To make this handgun range bag durable and sustainable, the inner lining is made from high density polyester and is water-repellent. It also has a heavy-duty double zippers design to help with the durability. The sturdy wrap-around handles make this pistol range bag easy to carry.
All in all, we consider this handgun range bag to be one of the best on the market and you can't go wrong with this choice. Check the price on Amazon.
Next up, we have this highly functional and rugged double pistol range case. This sleek looking range bag is the perfect companion for those who are looking to enjoy a great shooting trip. The dimensions on this case is slightly smaller than the first bag as it comes in at 9.5 x11.5 x 3.2 inches.
This handgun rage case can carry up to 2 pistols. The zippered pockets where the guns can be stored adds to the security of the bag. You can also fit plenty of mags too. Whilst there is also room for hearing protection, you will need to pack your bag well in order for there to be enough room to do so.
As well as having an external nametape, the bag features elastic bands to secure pistol mags and other accessories such as cleaning equipment. It is fair to say that this pistol range bag was simply developed with quality in mind, you can just tell by the look and feel of the case. Check the price on Amazon.
Moving on, we have the Tactical Pistol Shooting Range Duffle Bag. This product is a favorite amongst the shooting community due to the quality and that can be substantiated by the starling reviews on Amazon. The bag is very spacious with the dimensions coming in at 15x 12 x 10 inches.
If you are looking to carry multiple pistols then this handgun range bag is perfect. You can carry up to 4 pistols. As well as this, multiple compartments inside the bag allows you to carry plenty of ammunition and hearing protection, whilst having room for other things such as water bottles and cleaning equipment.
Even better is the fact that this pistol range bag is very durable and water-resistant due to the nylon fabric that is used to make the product. If there are any quality problems then the company that makes the bag will replace it up to 6 months. Check the price on Amazon.
Finally, we have the value pick. The US Peacekeeper Attache Gun Case. This pistol range bag is ideal for those who only need to carry one pistol and want the biggest bang for their buck as we believe it is the best product at this price range on the market.
The pistol case is 12.5 x 6.5 inches, so it is rather small. It does however, have space for some ammunition. There are wide elastic bands to accommodate five pistol magazines. It is ideal for those who want to carry something light and not as obvious as the other bags.
To add to the durability and security of the product, the double zipper offers locking capability and is also heavy-duty. It is also water-resistant and comes with a lifetime warranty which is a nice extra bonus. To be more specific, the material is 600 denier polyester.
We really do recommend this handgun case. Check the price on Amazon.
Conclusion
Overall, we consider all these products that we have listed to be the market leaders and the best pistol range bags on the market. However, if we have to select one handgun bag to take the crown then it has to be the Procase Tactical Pistol Case, Shooting Range Pistol Bag. We simply cannot ignore the quality of this bag and the fact that it has so many useful components that allow you to easily carry all your gear as well as two pistols, that is why we believe it to be the best pistol range bag.