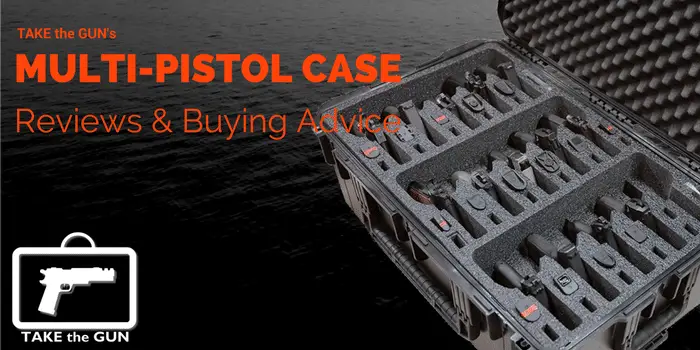 You would look silly rolling up to the range with an armful of pistols or a stack of single pistol storage cases. The best solution for those of us with large collections is a multiple handgun carry case. Keep reading to find buying tips and see which case we feel is the best.
Multi-gun Pistol Case Buying Advice
You have the guns. You have the ammo. You may even have the training. But do you have the best multiple handgun carry case for all of your fancy hardware?
Why would you want a multiple handgun carry case?
As mentioned above, if you have a large handgun collection, and you want to take several guns with you at once, your best option is one of the cases below. Quite simply, if you have to travel with, store or transport more than a couple handguns, you will want a case that can keep your guns safe and secure.
Features & Benefits
A good handgun case keeps your gun safe from drops, falls, bumps and it keeps it safe from unwanted hands. The same principles apply for single cases all the way up to multi-gun cases. You want a secure way to transport your weapons. The cases we review below will do just that. They will store from four to fifteen pistols with magazines, ammunition & accessories. Almost all of them are waterproof, dustproof, lockable and crush resistant. These are some of the things you want in a case – a good one will have them all. But what else should you consider? Let's take a look at some of the different types of cases to make sure you're getting the right case for you.
A lot of the same principles we used to find the best binocular hard cases were used to determine what you need in the best multi-pistol cases.
Types of Multi-gun Pistol Cases
There isn't much variation in the larger multiple handgun cases – in fact several of them come from the same company. There are two main types of multi-gun cases: rolling and non-rolling. And then there are only two main differences in the way your gun is stored; holster style or flat. Let's talk about each.
Non-Rolling Multi-gun Cases
Non-rolling cases are exactly how they sound. They don't roll. They are designed to be carried whether that's by their handle or in a backpack. Obviously if you're getting a case that is designed to transport four or five guns then this probably isn't a problem. But the larger cases which are designed to move fifteen or twenty plus guns, you will want them to have rollers.
Rolling Cases
Rolling cases are designed with wheels and handles much like travel luggage. Most of them have a telescopic handle that can be pulled out to easily move the loaded case. Consider moving a case with fifteen handguns, magazines and extra ammo. This could easily reach 50 pounds or more so the rollers make transport comfortable. We strongly recommend getting cases with rollers if they're bigger than ten guns.
Storage Style
A subtle style difference is the way the gun is stored. Several cases are designed as "quickdraw" cases which store the pistol, barrel down, at an angle. This is very similar to the way a gun is when it's in a holster. These make great gun range cases as they can be open on the table and you'll have easy access to each of your weapons. Traditional multiple handgun carry cases are designed to store your gun in a flat or upright position – the handle pointing down or lying on it's side. This is preferred for long-term storage and transportation especially if there will be bumps and jostles.
What to look for in the Best Multiple Handgun Carry Cases
Depending on the size and diversity of your gun collection you will have a few things you want to consider. Some cases aren't designed for more than 4 guns with accessories. Other cases can handle twenty or more guns but no accessories. And still, there are some cases that can only fit semi-automatics. You have to consider all of these factors when looking to securely transport multiple handguns.
Size / Quantity
This should be the most obvious buying criteria – how many guns do you have? This will help you determine which case you need. If you have more than ten handguns then it would be ill-advised to buy a four-gun case. Don't forget that you also want to take into account the number of guns you WILL have. If you plan on buying six guns during the next year then you might want to buy a case that will accommodate the size of your new collection. N +1 is a rule in gun collecting as well (that means that you always need 1 more gun than you currently have)!
Style
Which style suits your needs? Do you want a case that can lay flat, open from both sides or one where your guns sit in "quick draw" direction. All of these things should be considered when buying a case that will fit multiple guns. The purpose of use should also play a part in your decision process. Are you the only person who will get into the case at the range or will you be carrying guns for all your buddies? Do you plan on travelling often with your case? Do you need it to have wheels or do you want to carry it like a briefcase? All of these questions will help you determine the right style for you.
Security
You should consider the type of closure system and the case's lock-ability. How secure do you need it to be? This is a short section but obviously it's vitally important. If you're using the case for long term gun storage then you will want to make sure that it's dry, sealed and safe. WHERE you will store it will also play a role in how well it should be secured.
Padding
As mentioned above, there a many different styles of multi-gun carry cases. Each of them offer different levels of protection, security and padding configurations. Some use rubber and injection molded plastic while others use customizable foam padding. The type of padding and the configuration should play a final role in your selection of cases. How your guns are protected and retrieved plays a part in how well the case performs for you.
Top Multi-gun Pistol Cases Summary
We've put several top selling items to the test and compiled a summary of our findings below. If you're looking for the best, one of these should fit the bill. Continue reading to see the results of our testing and research.
The Seahorse SE-540 QuickDraw case is designed to fit 4 handguns, 12 magazines and a few accessories. It's designed to fit all handgun models, including 1911's & revolvers, that have barrels around 5″ in length. This multiple handgun carry case is watertight, airtight, dustproof and crush resistant. The closures are tight and provide for a very secure way to transport multiple guns. One thing we really liked about this case is that it was designed to fit the guns in holster-style which makes it really easy to load & unload your pistol from the case.
Outer shell material is a strong polypropylene and the inner foam gives you a snug fit so the contents don't move around. It has cutouts for multiple guns (up to 4) and multiple magazines. There are holes for two locks which makes this case lockable and TSA compliant for air travel. Certainly one of the best features for any Seahorse case is their Unconditional Lifetime Guarantee! Check price on Amazon.
​
The Case Club Waterproof 4 Pistol Case gets our nod as one of the best multi pistol hard cases on the market today. As the description states, this case is designed to fit four pistols, extra magazines and other accessories with ease. It's waterproof, dustproof, made in the USA and is backed by Case Club's lifetime warranty. The closed-cell polyethylene (foam) is military grade and is precut to allow you to customize the case to your liking. The cut sections are left in the foam so you can pull them out as needed. You can store your guns upright or holster-style, in this case, making it very universal.
The case is NOT sold as a revolver case but we found that you can fit many small frame revolvers, semi-automatics and other handguns in this case with ease. That's the beauty of the pre-cut foam! A pressure equalizer is found below the right latch so this case is designed very well. It comes with silica gel to absorb moisture so your guns can be stored in it long term. Speaking of long-term storage, this case is lockable and airline approved for travel and security. Max pistol length is 8 5/8″. Check price on Amazon.
UPDATE: It seems that the CaseCruzer 5 gun case has been out of stock frequently. If you click on the link below and find that it's unavailable, we strongly recommend the CaseClub 7 Revolver case  as a viable replacement or the Case Club 4 Pistol Case found above.
If you're looking for a multiple handgun range bag the CaseCruzer Handgun Case could be just what you need. This case is designed to hold up to 5 handguns, including revolvers, accessories, magazines and other range supplies. The case will hold semi-automatics up to 9.25″ in length and revolvers with 4″ barrels. The outer shell is very durable and offers significant crush protection. The CaseCruzer deviates from other multi-gun pistol cases on the market because they don't use foam inside but instead rely on molded plastic with rubber padding. This gives you more protection from crushing, dropping or falling while still offering cushion.
The case is pad-lockable offering compliance with TSA travel requirements as well as being airtight and water resistant due to the pressure equalization valve and o-ring seal. The case is made in the U.S.A and CaseCruzer backs it with a lifetime warranty. Check price on Amazon.
Is your collection bigger than the paltry 4 or 5 pistols that we've mentioned above? Well then Case Club offers you the option of their Waterproof 15 Pistol Case. This multiple handgun case is designed to the same specs as their four pistol case above only larger. There is room for up to 15 guns, 32 magazines and some accessories. The case is waterproof, dustproof, lockable and TSA compliant. The closed cell foam is sturdy yet offers significant protection.
Obviously this case is larger than the cases above so it will be bulkier when loaded. Case Club helps with this by including a luggage-style handle w/ rollers so you can tow the case with you for easy transport. You should see this thing! The latches, handles and rollers are designed with durability in mind. That's also why Case Club offers their lifetime warranty on it. Outside Case Dims. 31.62″ x 20.50″ x 12.60″. Check price on Amazon.
Plano's 1404 Protector series Handgun Box to be a very versatile, sturdy and practical multiple handgun range case at a great value. The case is made from industrial-strength plastic, is weatherproof, watertight and airtight thanks to the continuous Dri-Loc Seal. Inside, protection is given by double-layer egg crate foam that provides a secure place to store up to four handguns. The case comes in multiple sizes for various sized weapons. We think this case offers great value.
While it doesn't offer all of the nice features of the other multi-gun pistol cases above, it does fit four handguns fairly easily and securely. Thanks to the lock tabs, lock ports and closures it will keep multiple handguns safe and gives you a much cheaper option! Check price on Amazon.
Conclusion – Find the best Multi-gun Pistol Cases for you!
As you may have noticed, many of the selection criteria listed above is all about personal preference. We can't tell you what you need nor can we tell you what you will like. But we can help you remember some of the things that will make your selection perfect FOR YOU. The items above are the leading Multi-gun Pistol Cases that we could find on Amazon and other online stores. After reviewing, testing and doing our homework, which one is our top pick?
Case Club Waterproof 4 Pistol Case with Silica Gel
We chose the Case Club 4 Pistol Case as our best multiple pistol case because it is designed to work for anyone that has to transport up to four handguns and accessories. It will take on revolvers, 1911s, semi-automatics and is even able to accommodate some accessories already attached ot the gun (like scopes,
red dot sights
& longer magazines). The lifetime warranty sealed the deal for us!
Still Hungry for More?
We can't blame you… you've made it this far so that must mean you're really into Multi-gun Pistol Cases, so we're here to help. We know some of you aren't totally convinced that the products listed above are really the best ones for you. So we've broken everything down even more. Want to know which is the cheapest? What about the best ones for beginners…we've got those too. Follow the link below to get even more.