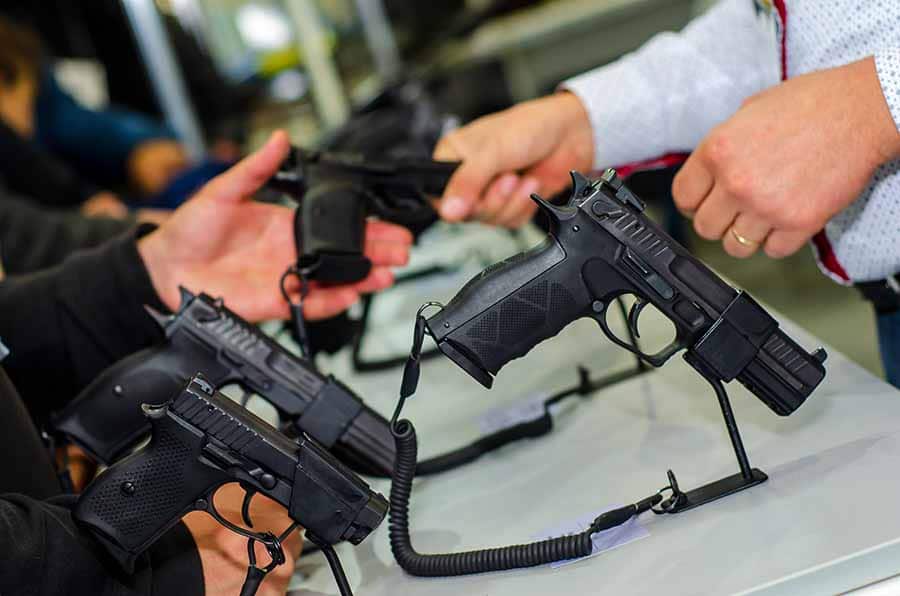 There are a lot of reasons why you may want to return a firearm.  Maybe it doesn't feel right in your hands or maybe It always shoots to the left.  You might have been greeted at your front door with your brand new gun, still in its box, by your wife and she tells you that you already have enough guns and this one has to go back.  So you try, but… 
Most stores have an absolute NO RETURN OF FIREARMS policies, but there is no federal law that prohibits returning a gun.  The reason for most of the "no return" policies are for the stores to avoid potential liability. There are a few exceptions, but they are rare.  There are some stores that offer buybacks or store credits if you are displeased with your firearm. Make sure you check the return policy before you buy.  
I have been around guns my whole life and I have heard all kinds of stories from friends who ran into obstacles when trying to return a firearm.  I have also heard from store owners who told me stories of people who try to cheat the system and take advantage of a liberal return policy. So, the inability to return a weapon is not the federal government's fault, and it's not entirely the fault of the gun sellers.
Examples of Gun Return Policies
OUR STANDARD 60-DAY RETURN POLICY DOES NOT APPLY TO THE FOLLOWING ITEMS:
Firearms, black-powder guns, ammunition, gunpowder, primers, treestands or ANY type of mouth call may not be returned due to safety considerations.
Gasoline-powered items and drones are ineligible for return if they have been used, show signs of use or if oil or fuel has been added.
Custom Order products such as those with specific make/model of item must be returned to the 
manufacturer (e.g. seat covers, floor mats, furniture, etc.).
Any product that has been altered may not be returned (i.e. cut arrows, etc.).
The following items cannot be returned:
Firearms
Ammunition
Hunting Bows
Crossbows
Black Powder
Rifles/Muzzleloaders
Gunpowder
Primers
Items Requiring Gasoline or Fuel
Used Bikes
Airbeds
Special Order Items
Autographed Collectibles & Memorabilia
Gift Cards
The following items cannot be returned:
Restricted products & hazardous materials such as Firearms, Ammunition, Primers, Gun Powder (or other propellants), Bullets, Bear Spray, Pepper Spray, Etc
The following items cannot be returned:
Firearms: With the exception of brands sold exclusively by Academy, all firearm sales are final, and customers must return any damaged or defective firearm to the manufacturer for warranty repair or claims.
It is interesting to note that Acadamy Sports will accept their own brands' guns for return but not others.  Their policy also brings up a major point. What happens if my new gun is defective and the store has a no return policy?
What if I Buy a Defective Gun?  
While most of the sporting goods stores and gun shops I spoke with had a strict "NO RETURN" policy, they did offer guidance on how to handle the purchase and replacement or repair of a defective weapon.
Their guidance was "talk to the manufacturer."  Several of the shops said their hands were tied and could not even entertain the thought of accepting the return of a gun, even if it was unfired and in its original packaging.  Some shops went so far as to say it would be against the law to receive a returned gun, even though there is no federal law on the books. No matter the reason or excuse, however, It would be very difficult, if not impossible to talk a store into accepting your firearm return.  There are a few exceptions, but they are few and far between.
It is certainly not as easy to deal with the manufacturer of your gun, but they (especially the big names) want to keep their customers happy and do for the most part.  According to the Remmington website:
"…we will, at our option, repair the defect(s), or replace the firearm at no cost to you. If we send you a new firearm, we will keep the defective one."
So, just because your local store won't take your defective gun back, most manufactures will make it right.
Why Don't Stores Accept Gun Returns?
The major reason that stores won't accept a return for a NEW gun is that, like automobiles, once they have been sold, they can never be advertised as new.  In the case of guns, even if the gun hasn't been fired, the transfer paperwork (ATF 4473) creates a transfer from one owner to another.  So, the gun has an unknown history of use, which "taints" the gun as one gun store owner put it when I asked the question.
Another gun store owner I spoke with told me that he used to accept returns, even though he had to go through all the paperwork.  He wanted to build his business and wanted to put the customer first. But, people started taking advantage of him. They would buy guns they couldn't afford, keep them for the hunting season, and return them to the store after the season was over.  It didn't take long for this gentleman to change his policy to one that is more in line with the bigger chains.  
Of note, he also said that he never accepted handgun returns, not because he didn't want to do the paperwork, or because of the loss of value, but because he was worried about "renting" a handgun that could be used to crime.  So, it was a personal choice, nothing he was forced by law to do.
Are there any Exceptions to the "NO FIREARM RETURNS" Policy?
Sure there are.  As was mentioned in the Acadamy Sports return policy, they will accept a return of a new firearm if it is their own brand.   There will still be paperwork, but like other manufacturers, it makes good business sense to stand behind your product 100%.
As far a used guns go, that is a very different story.  Because there is not an immediate loss in value just because of the transfer, some of the shooting ranges and pawnshops will accept returns of a firearm that they sold that was USED when they sold it to you.  This does not mean they will pay you, what you paid for it, but depending on the reason for the return, they might.
Some places will offer Store Credit when you take the gun back to the store.  There will still need to be a "transfer" since the store must be an FFL so, the store "Buys Back" the gun. When you decide on what to use your store credit on, you will need to have file the ATF 4473 again.
According to the ATF website:
" A licensee must initiate a new NICS background check for each completed firearms transaction."
Private transactions are easier (in most states) because there is no need for the ATF 4473.  If you buy a gun from a buddy and just don't like the gun, he can take it back and sell it to another friend at the same price he sold it to you.  It is still advisable to use a Bill of Sale.
Can I at Least Return Ammo
Unfortunately, in most cases,  NO. Primarily for liability purposes, is what the stores tell me.  Because they lost control of the ammo, and do not know if it has been tampered with, they do not want the liability if they resell returned ammo and something goes wrong with it.  If you will take a look back at the store policies, you will see the ammo highlighted in green.
Final Thoughts
As with many things dealing with guns, there are a lot of caveats, but one thing is pretty clear. Most gun and outdoor stores have a strict policy of NO FIREARM returns!  Make sure before you finish your transaction and take possession of your new gun that you understand the policy of that particular store. While their hands may not be tied by the law, they may have been tied at the corporate level.
Thanks for reading and Happy Shooting!