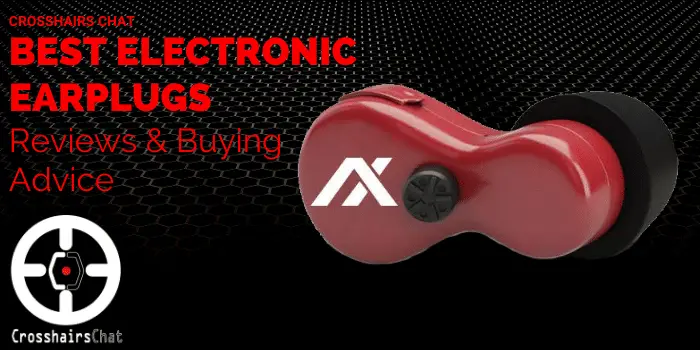 Active Noise Reduction & Hearing Protection
If you like to hunt, shoot or participate in any other activity that involves a whole heap of noise then this article is for you. We explore the world of active hearing protection and help you find the best electronic earplugs.
In some of our other articles, we have looked at earmuffs and passive earplugs for shooting, but now we are focusing on the best electronic hearing protection that is available for you. We want to inform you about everything there is to know about the different types of electronic products that will be helpful in preventing you from sustaining hearing damage and thus preventing hearing loss.
Who needs Electronic Hearing Protection?
The short and sweet answer is that anyone who participates in any activity that could be damaging to their hearing. The truth is, everyone who shoots a gun or works in loud environments are slowly but surely sustaining damage to their ears. In some instances, hearing can be lost in a single incident, especially when firing a gun. To prevent this from happening, hearing protection of all different types have been invented over the years to better look after people's ears. We have decided to look at electronic hearing protection as we believe this is one of the best ways to protect yourself.
The best electronic hearing protection will ensure that you will be able to enjoy your hobbies without having to worry about the possibility of sustaining long term damage to your hearing. Not only that, electronic hearing protection can provide additional benefits to the user other than hearing protection. Many electronic products come with special features that will not only protect your ears but also enhance your experience.
All in all, we feel that it is imperative for those who participate in shooting or hunting to buy hearing protection, electronic or not. Safety comes first and we all want to avoid hearing loss. We do believe that electronic products have many perks and advantages and that is why we have written this article.
What are the buying criteria for finding the Best Electronic Earplugs?
There are a variety of factors that should be considered when buying electronic hearing protection. One of these factors is the 'Noise Reduction Rating'. We have covered this when looking at the best earmuffs and earplugs for shooting but essentially the NRR is the benchmark in which different hearing protection products are measured against. The higher the rating, the greater the noise reduction. The suitable NRR depends on your own unique situation. All of the electronic hearing protection products we have recommended in this article have sufficient noise reduction ratings.
Another criterion you may want to consider is the quality of the material that is used to make the product. The last thing you want is your electronic hearing protection to break when actively using it because it's easily damaged. Additionally, you are going to be wearing this product, so you want it to be as comfortable as possible. It is important that it fits correctly in order to ensure your ears and hearing are protected. Ideally the product should be moldable or adjustable.
Other than those two key criteria, other factors such as certain features are specific to the user. Some of you may like to use your electronic hearing protection as headphones or earphones, others may prefer to not have this feature. Preference will determine which electronic product you ultimately choose.
With all that being said, I'm sure you must be wondering what are the best electronic hearing protection products?
When talking about electronic hearing protection, this product comes to mind. This high-end, sleek earplug offers users the latest technology and the highest levels of comfort.
To begin with, the product uses Axil Ghost's core digital sound compression technology to automatically actively reduce loud noise to safe levels, making sure you are protected against hearing loss. This technology also has a special feature that allows low-level sounds such as conversations to go through. This is particularly useful if you like to go shooting or hunting with a group of friends.
To ensure comfortability, the earbuds have foam tips. The product also comes with a cleaning brush so that you can regularly clear up any build-up that may occur. It is also washable and reusable so that it is a durable and sustainable purchase. As well as this, the electronic hearing protection product comes with batteries which is an added bonus.
We really do feel that this product is suitable for those who want to enhance their shooting and hunting experience as well as protecting their ears from hearing loss. It is clear to us that this product is one of the best electronic hearing protection that money can buy.
Next up we have this very popular earplug that has cool features which sets it apart as one of the best electronic hearing protection products on the market.
What we love about this rechargeable electronic earplug is that it really does amplify low-level sounds to the point you wouldn't even realize that you have hearing protection on. It acts as if it does nothing until you are confronted with a loud noise in which it filters the sound and actively reduces the decibel leve+l in order to protect your ears and hearing. If that wasn't enough, this product has the ability to provide up to 16 hours of continuous operation between charges and we find this remarkable.
This product comes with a variety of communication ear tips designed to fit most ear canal sizes. What's more, is that each of the eartips has a different NRR which means you can change your hearing protection depending on your needs.
As this product is the next on our list, we clearly hold it in high regard. We believe that anyone who is serious about looking after their ears will at the very least consider this electronic earplug. We believe that this is one of the best electronic hearing protection products you can get.
Moving on, we have the highest-priced item on our list. The Otto electronic earplugs. This product contains state of the art technology and has many positive reviews on Amazon. This clearly works well for many people.
This electronic hearing protection product offers great situational awareness and very clear communication as well as of course, hearing protection in order to prevent hearing loss. When sound levels aren't safe, this electronic earplug can provide protection up to 40 dB. In reality, this is a high NRR so we can be sure that your ears will be well looked after if you choose to use this product. Despite being the most expensive item on our list, it sure does make up for it by having the small details of the product figured out.
What we like most about this product is that it is waterproof and comes with a 1-year warranty with the manufacturer. This means that you don't have to worry about sustaining damage to your product as the company will replace it.
To conclude, we feel that this electronic earplug is the perfect companion for anyone looking for the best electronic hearing protection.
Last but not least, we have the value pick for those who are trying to find a bargain. This product has all the key features needed in order to protect your ears and prevent you from suffering hearing loss.
This electronic hearing protection product has its own advanced digital circuit that provides the most crystal-clear audio possible. As well as this, if you want to connect the earplug with your phone you can do as it has built-in digital Wi-Fi that can sync with mobile phones. You can even download an app that allows you to control your electronic hearing protection from your mobile. For example, if you want to monitor battery levels, control program settings or most importantly adjust the volume, you can do on the app.
As this product is rechargeable you do not need batteries. This is a good thing because not only can you save your money by not constantly purchasing batteries, you no longer need to worry about them when on a hunting or shooting trip.
Ultimately if you just want to find the best electronic hearing protection without all the extra features or higher cost then this product is for you.
Conclusion
As this article comes to an end, we want to make clear what one product we think is the best if we had to choose.
It must come as no surprise that we have selected the Axil Ghost Stryke 1. The digital sound compression technology simply sets this product apart and we really do believe that this is the best electronic hearing protection on the market. If you want to protect your ears from hearing loss and enhance the experience of the shooting, hunting or whatever it is that you may be doing, then this product is the one for you.