AW Pro Ultrasonic Cleaner 15L
Working, Features, Durability
AW Pro Ultrasonic Cleaner (Overall Rating)
AW Pro Ultrasonic Cleaner is one of the best 15L ultrasonic cleaners you can use for cleaning your guns and other items.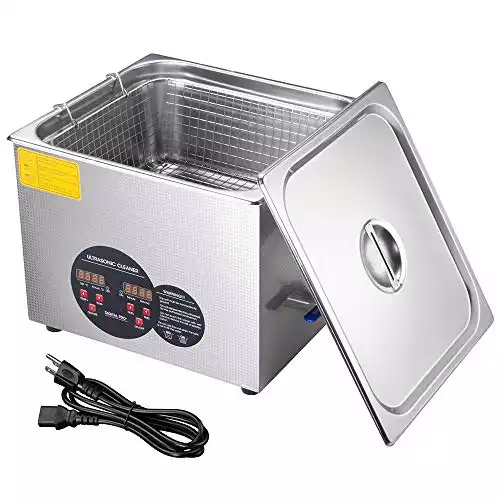 If you are in search for a good 15L ultrasonic cleaner for cleaning your firearms, equipment, and tools easily, AW Pro is the best cleaner for you.
With a large tank capacity, this cleaning machine is good enough for cleaning all types of guns, parts, and equipment with ease.
This digitally programmed ultrasonic cleaning device by AW Pro can be used for cleaning of the items with different cycles.
You can choose from 0-30 minutes of cleaning cycles which makes the operation easy and automated.
Few other features of the machine which makes the device unique are:
Powerful transducers (40 kHz and 960 W of total wattage, transducer – 6 sets and a heater – 600 watts) which provide remarkable results in cleaning.
Safe Heating feature which makes the working reliable and safe up to the temperature of 80 degree Celsius.
Degas feature is provided for enhanced cleaning of the items.
Circuit protector for extra protection of the unit which gives an enhanced life to the device.
The radiator fan is provided to protect the parts, especially when operated for a longer time.
Wet proof PCB is provided which is good for usage in labs.
It comes with one year warranty
The detailed guide is provided with the machine for understanding all the operations easily.
The machine is CE certified and the power cord is UL certified which makes the machine well suited for cleaning the equipment in dental labs, clinics, and hospitals.